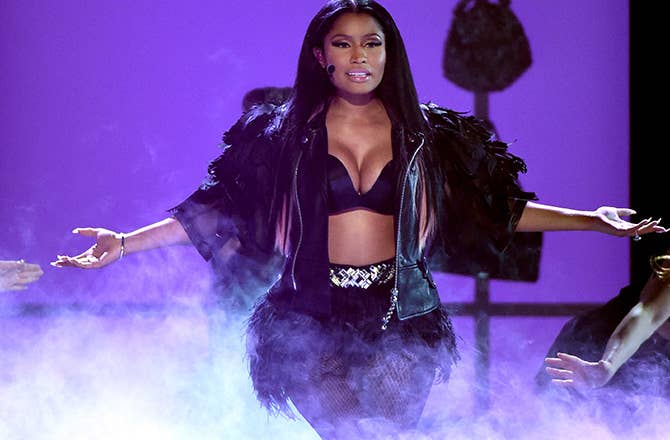 Nicki Minaj's debut studio album, Pink Friday, had some pretty epic guest appearances. We're talking everyone from Eminem and Rihanna to Will.i.am. and Drake to Kanye West; however, one artist who was surprisingly absent from the project was Young Money boss and Nicki's mentor, Lil Wayne.
In honor of Pink Friday's seventh anniversary, Nicki spoke about project's accolades and quickly addressed why Wayne was missing. As most of you know, he was serving jail time for gun charges at Rikers Island during the album's recording stage.
"My mentor Lil Wayne couldn't be on my debut album due to a gun charge in NY," she wrote on Instagram. "That had me fucked up @ the time."
Nicki has spoken about Wayne's involvement—or lack thereof—on several occasions. In her 2010 Complex cover story, she revealed that the New Orleans rapper hadn't contributed to the album, which we now know wasn't by choice.
"He really hasn't had any involvement on it," she said. "But to be honest, the album doesn't sound like Wayne. I mean, he's my biggest influence, but it doesn't sound like Wayne's stuff. It sounds like Nicki."
Nicki once told Hot 97's Funkmaster Flex that Wayne didn't even know the title of her debut album until after it was announced. He said he was initially confused by fan letters that kept bringing up something called "Pink Friday."
"He said that people were writing him in jail saying, 'Oh, we loved [Drake's debut album]Thank Me Later and we can't wait for Pink Friday.' So he said he was looking at the letters like, 'What the hell is Pink Friday? Because I didn't even tell him my album name and stuff and he found out in jail because of like, the fans writing him letters. He was like, 'OK Nick, that's the name of your album?' And we were just having a great conversation and I stayed there for like, two hours and then broke out.
Wayne did, however, contribute to Nicki's following albums, 2012's Pink Friday: Roman Reloaded and 2014's The Pinkprint. Will he appear on the rapper's upcoming fourth studio album? Stay tuned.
Nicki has been very vague about her next full-length project. She has confirmed that it's on its way, but has yet to reveal a title or expected release date. She has reassured fans that the album will be "iconic" and mark a new era in her career.