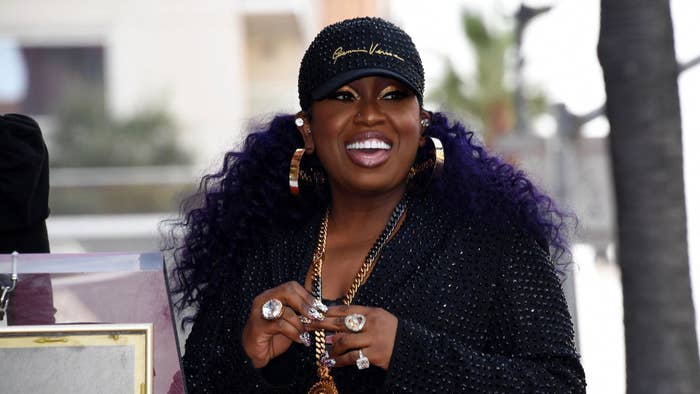 Portsmouth, Virginia, is paying tribute to hometown hero Missy Elliott.
As reported by CBS affiliate WTKR, the local city council unanimously voted to honor the four-time Grammy-winner with her very own street. Officials will rename a portion of McLean Street, located in Portsmouth's entertainment district, to Missy Elliott Boulevard. The road runs adjacent to the Victory Crossing Shopping Center, Tidewater Community College, and upcoming Portsmouth Rivers Casino.
The station reports that the approved ordinance will not affect the addresses of existing or future developments, including residential areas. 
Elliott, who was born and raised in Portsmouth, celebrated on social media.
"I am forever GRATEFUL🙏🏾," she tweeted. "P-TOWN🙌🏾 VA #757 LOVE."
The name change was proposed by Erin Carter, a family friend of Elliott's.
"We don't do a good job recognizing our own heroes that's right here from Portsmouth," Carter said during Tuesday's city council meeting. "Growing up I learned that this same girl [Elliot] who's received all these awards, performed at the White House…she grew up right here in our city of Portsmouth. Children shouldn't have to look to another city to see greatness, because greatness resides in Portsmouth."
Missy shared a photo of Carter on her Instagram Stories, writing, "Thank you @iamerincarter for initiating me having a street in my name in my hometown VA! Thank [you] to the whole city council🙏🏾💜 I have been Blessed with many awards but this hit different when it comes from home & I am PROUD to be a #757 2 up 2 down country girl! No matter where I go across the globe I am still P-TOWN ALL DAY baybeeeee. I am so Humbly Grateful God is good ALL THE TIME."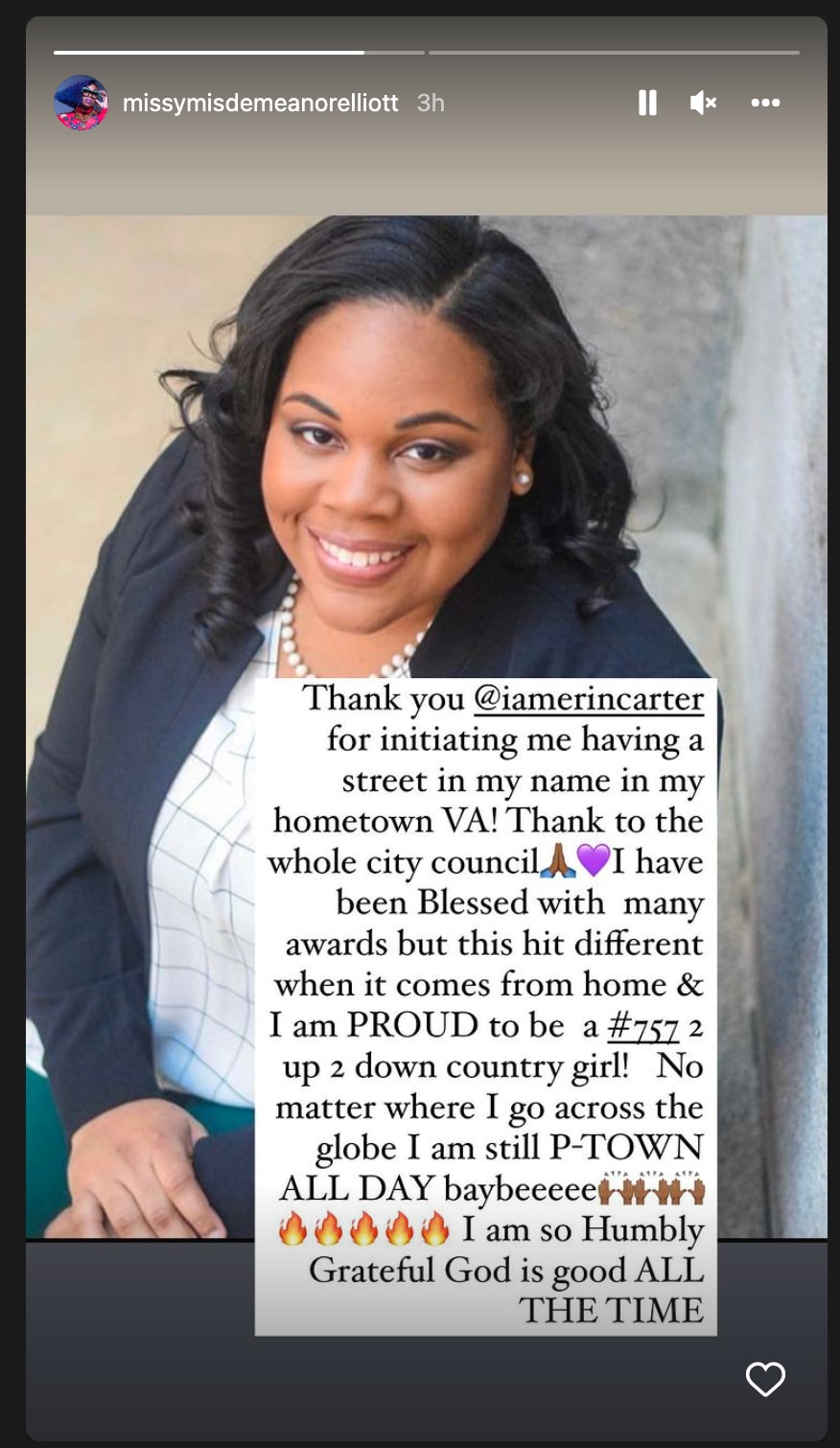 Missy, legal name Melissa Arnette Elliott, was born July 1, 1971, at the Portsmouth Naval Medical Center and grew up in the city's Hodges Ferry community. According to WTKR, residents petitioned to replace a Confederate monument with a statue of Elliott in 2017. Though the effort was unsuccessful, the monument was eventually removed.
A couple of years later, Elliott made a surprise appearance at Portsmouth's Woodrow Wilson High School, previously known as Manor High School. The rapper met with students and staff, as well as toured the campus to see how much it had changed since she graduated in 1990. She also made a $25,000 donation to Woodrow Wilson High.