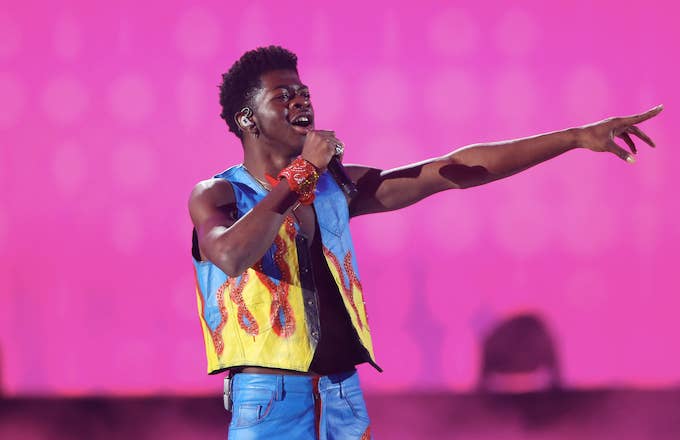 Congratulations are in order for Lil Nas X, who continues to dominate the year.
On Tuesday night, Columbia Records announced X's hit "Old Town Road" featuring Billy Ray Cyrus was certified diamond by the RIAA, making it the fastest song history to reach the milestone. The diamond certification is bestowed to albums or singles that sell at least 10,000,000 units. Other artists who have achieved this feat include Bruno Mars, Lady Gaga, Justin Bieber, and Eminem. 
Columbia also stated "Old Town Road" was the first to earn the diamond certification in 2019; however, Drake's 2018 track "God's Plan" was certified diamond back in September, about 20 months after it hit streaming services. It's likely Columbia meant the Cyrus-assisted version of "Old Town Road" was the first track released in 2019 to reach diamond status. 
Released independently in late 2018, "Old Town Road" became a viral sensation at the beginning of the year, thanks in large part to the "Yeehaw Challenge" meme on TikTok. The song has since been remixed many times, and has featured everyone from Young Thug to Mason Ramsey and BTS. The genre-defying track also prevented music heavyweights from securing No. 1 debuts, as it had occupied the top spot on the Billboard Hot 100 for 19 consecutive weeks, making it the longest running No. 1 single in the chart's history. 
Back in early July, X took to Twitter to announce that "Old Town Road" had been certified diamond; however, the RIAA refuted the claim shortly after.
Thankfully, X didn't have to wait too long before he received the honor.