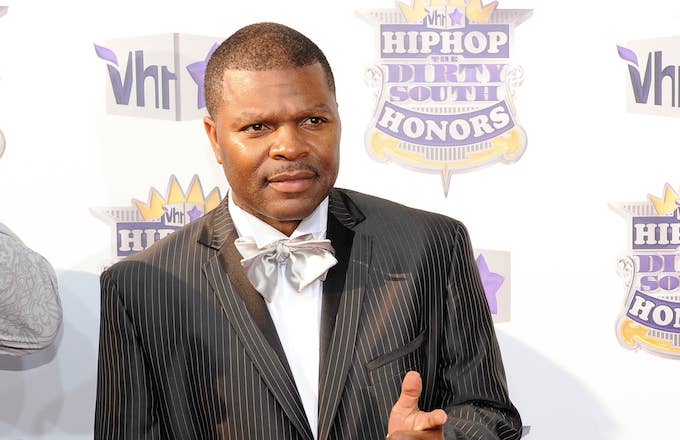 Mission accomplished.
More than a week after YBN Almighty Jay was jumped and robbed in NYC, hip-hop mogul J. Prince managed to recover the young artist's Rap-A-Lot chain. J. Prince confirmed the news via Instagram on Tuesday, but didn't provide details on how he retrieved the stolen piece.
"Real recognizes real in every hood and has a way of connecting in spite of clowns and squares," the Rap-A-Lot Records CEO captioned a photo featuring French Montana. "The homies from the Bronx, KT, @hocus45th and @frenchmontana kept it real with me and my son @jprincejr. Tho it was never about the chain, it was about the name that was built off of blood, sweat, and tears [...] To @ybnalmightyjay I'll be returning your jewelry soon Lil homie."
After posting a call to action to some artists from The Bronx he trusted, it looks like J. Prince was successful in getting back a piece of history.
Bronx rapper Hocus 45th was responsible for returning the chain to J. Prince. According to TMZ, he and French Montana met with J. Prince in Los Angeles to hand-deliver the piece.

Almighty Jay was hospitalized this month, after he was attacked by a group of men in a residential building in Manhattan. The assailants allegedly took off with Almighty Jay's money and the aforementioned chain, which was subsequently featured in a Zae Numbafive music video. J. Prince specifically called out Zae in an Instagram post, referring to him as a "clown" who bragged about robbing industry figures.
"They Recently Bragged About Robbing The Artist YBN Almighty Jay Whom I'm Invested In," he wrote in the post last week. "They've Robbed Him Of His Money And Jewelry Including A Rap-A-Lot Piece. So Therefore They Have Robbed A Piece Of Me."
Zae denied stealing the chain in an Instagram story:
Zae and three of his associates were arrested last week on unrelated federal charges, including attempted murder in the aid of racketeering. The men were allegedly involved with the shooting of an off-duty NYPD officer back in October.