It seems the WWE has taken aim at pro wrestling fan Westside Gunn.
On Wednesday afternoon, the rapper's imprint Griselda Records shared a screenshot of YouTube takedown notices issued by World Wrestling Entertainment. The message states a handful of Gunn videos were removed from the platform because of copyright violations. The affected tracks were "Claiborne Kick" with Boldy James, "The Hurt Business" featuring DZA and Wale, "French Toast" with Wale and Joyce Wrice, "Allah Sent Me" assisted by Benny the Butcher and Conway the Machine. Each of the songs included audio from WWE interviews and performances.
"Retroactive copyright claims why?? @WWE" Griselda wrote in an Instagram story. The WWE has yet to publicly address the copyright takedown notices.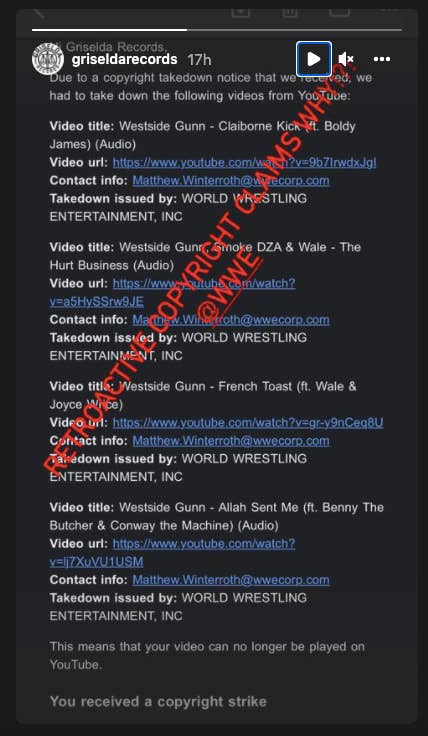 The copyright issues came to light more than two months after WWE announcer Greg Hamilton threatened to sue Gunn for sampling his voice without authorization.
"Well @westsidegunn @buffalokidsgallery let's hope that since you STOLE my voice for your incoherent kindergarten fables…that you saved up enough delivering for Door Dash….because….You….are…," Hamilton wrote in a since-deleted Instagram post. "You'll be paying me for years….apologize and I'll think about not collecting every dime for the rest of your life….or I can just get WWE lawyers….that's ok too. Settle with my lawyer. And don't EVER use my voice again….so wrong."
He continued: "Tick… tock… the longer this goes, the longer I have in court… you ready to settle or do u wanna dance with WWE lawyers? It's a slam dunk. Price goes up by the day."
Hamilton announced he was leaving the WWE just several days later, insisting the decision was both mutual and "respectable."
As pointed out by WrestlingInc.com, Gunn also appeared on WWE's NXT TV last month for Harland's long-awaited in-ring debut. The entertainment company tweeted a photo of Gunn with Harland and posted a video of Gunn's backstage interview with McKenzie Mitchell. The tweet has since been deleted and the video was set to private.