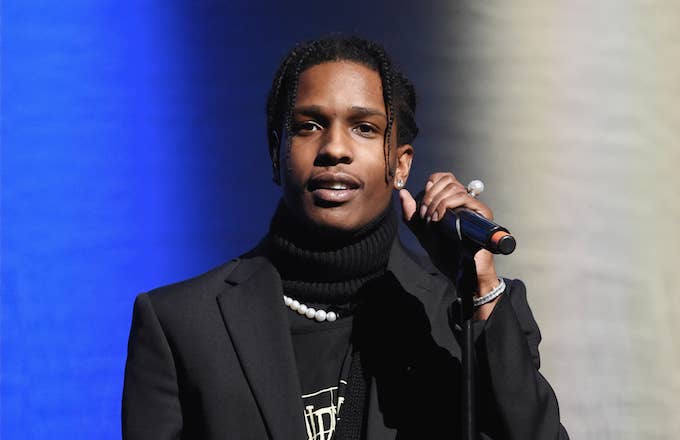 ASAP Rocky is still a fan of group sex.
While on the road for his Injured Generation Tour, Flacko sat down the GQ's Samuel Hine to discuss a wide range of topics, including Paris Fashion Week, moshing, Raf Simons, and his newfound sobriety. The Harlem native recently announced he had given up drugs and alcohol for the new year—but that doesn't mean he's completely abandoned his hedonistic lifestyle.
When asked how he spends his time after each show, Rocky bluntly replied: "Orgies [...] Foursomes, fivesomes, moresomes. All womens." 
This isn't the first time Rocky has spoken so openly about his affinity for group sex. Back in October, the 30-year-old artist revealed he had his first orgy at the age of 13 and regularly hosts them at his house. 
Rocky also told GQ he decided to live a sober life completely for "selfish reasons."
"The Backwoods is not good for me. I felt like I was addicted to that shit and I just needed to try something new," he explained. "I'm a Libra, man. Honestly, I'm impulsive so who knows, in eight months I might be like, Alright, this shit is stressing me out! But I'm good. To kids who do drugs, man, do them safely, bro."
Rocky went on to shed some light on the meaning behind the Injured Generation Tour. He said the name was inspired by the people who were emotionally and physically injured—specifically the young man who lost both his legs in a 2018 train accident following a Rocky concert.
The fan, named Samir, was featured in a promotional video for the tour:
"He wasn't trying to sue nobody or nothing, he just wrote about it and Hadji Films showed me, he was like, 'Yo, look at this kid, he was at our rave,' and reached out and just made it happen," Rocky said, when asked how he and Samir connected. "His story inspired it, it was more of an example, and we donated to his GoFundMe, and on top of that, we're doing a charity event to give away the cars [three vintage BMWs and Mercedes suspended above the Barclays stage], and donating the proceeds to him and two other injured people."
You can read Rocky's full GQ interview here.