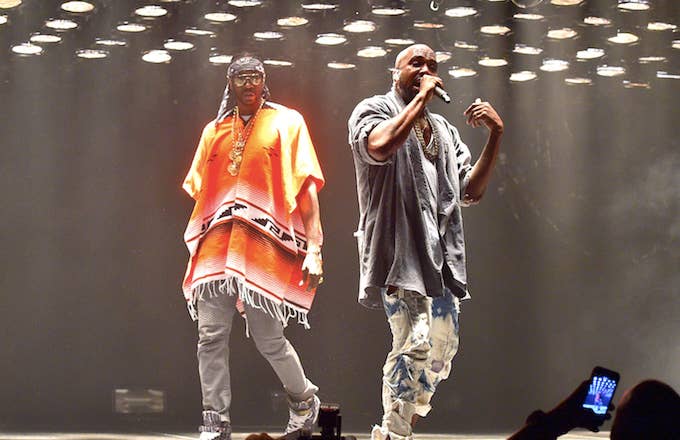 In support of his newly released album, Rap or Go to the League, 2 Chainz teamed up with Apple Music to provide a behind-the-scenes look at how the project came together. Tity Boi had invited cameras into a special session with Lakers star LeBron James, who also served as ROGTTL's A&R.
LeBron was filmed listening to key tracks that would eventually appear on the album, while 2 Chainz provided some commentary on the cuts, speaking on everything from the inspiration to samples to respective messages to samples. One of the highlights of the BTS video was when 2 Chainz played "Momma I Hit a Lick" featuring Kendrick Lamar. The artist told LeBron he had been working on the record for a minute, as he had trouble finding the right hook.
"Originally, Pharrell did the beat, and he had a hook on it, and I ain't like the hook," 2 Chainz said in the video. "And so Kendrick did another hook on it at first and I didn't really like the hook."
He continued: "Then I took it and went to Kanye's when he wasn't rapping. I played ['I'm Not Crazy, Life Is'] ... Then I played this and he started rapping. When he started rapping Nolan [Presley] took his verse and made it a hook. We was cool with it. He was cool with it. Kendrick liked it."
It seemed as though 'Ye would receive a feature credit on ROGTTL, but then he allegedly had a change of heart.
"[Kanye] didn't want to be on it, so I took him off. And then he wanted—I ain't going back and forth with that," 2 Chainz said.
It was back to square one. 2 Chainz said he went on to work with other rappers, including Travis Scott and Swae Lee, to to create a satisfactory hook. But he they efforts weren't successful. So, he and K. Dot decided to buckle down and do it themselves.
"I know people expect a certain thing when they see it on paper: me featuring Kendrick Lamar or whatever," 2 Chainz told LeBron, "so it should have some type of 'wow' to it."
You can watch the session now exclusively on Apple Music.