UNDER CONTROL
---
FKA twigs IS REINVENTING WHAT IT MEANS TO BE A POP STAR, COMBINING MUSIC, DANCE, AND VIDEO INTO AN EXCITING AVANT-GARDE VISION. BUT AS THE BURDENS OF FAME INVADE HER CREATIVE SPACE, CAN SHE MAINTAIN HER FOCUS?
WRITTEN BY CEDAR PASORI
PHOTOGRAPHY BY MATT IRWIN
ARTWORK BY IGNASI MONREAL
ANIMATION BY CLAUDIA MATÉ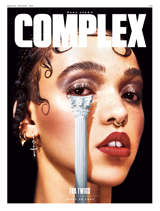 This feature appears in the June/July 2015 issue of COMPLEX.
FKA twigs is trying to channel a dead rapper through a krumping dancer named Dominant.
On a late winter night, deep in the ice-cold forest of Black Park about an hour outside of London, she's the center of bustling activity under a heated white tent, a blur of mayhem, as dancers, producers, and assistants work around her while she does no fewer than four things at once. They include changing outfits, looking into a monitor, leaning into a walkie-talkie held to her face by an assistant, and—delivering a directive that betrays the delicacy of her soft voice and calm English accent, but with no shortage of intensity—summoning the spirit:
"Look into the camera," she commands the dancer, Dominant, "like Tupac!"
"Keep a straight face for exactly five seconds, then krump. Like. Mad."
We're 16 hours into the video shoot for "Glass & Patron," a song on FKA twigs' forthcoming EP3, and controlled chaos reigns supreme. Due to her own airtight schedule, the shoot needs to be completed in a single day, and the video needs to be finished—as in, shot, edited, and ready to ship for the entire universe to see on the YouTube Music Awards—in less than seven days. But crucial scenes have yet to be shot. In two hours, the crew starts charging the production triple rate. The clock's ticking.
This doesn't escape the woman born Tahliah Barnett, who, at 27, has already been compared to everyone from Björk to Prince. Whose music, videos, and live performances yield copious critical accolades. And who, lately, has become the subject of a new kind of scrutiny (a reality hammered home by the paparazzi who somehow made it near the shoot's remote location). But neither those distractions nor the reality of that ticking clock gets in the way of her checking in on, well, everything:
"Have the dancers been fed?" "Is Mikey"—her manager of seven years—"getting 'Mother Creep' mixed?" "I'm nervous, I don't feel like I've seen enough in the monitor." "Do they"—the dancers—"look tight?"
Whether it's the request to channel Tupac, explaining how makeup should be applied, adjusting a steadicam angle, or calling for a split screen on the monitor, no detail goes unnoticed or untouched by twigs as she moves about the shoot, which barrels forward at the same breakneck velocity as the rest of her career—15 videos, two EPs, and her debut album, LP1, all in only two years. At this point, everyone else is just trying to catch up, and she's the one wearing stilettos (which, somewhat magically, don't sink into the damp ground beneath us).
From seeing twigs in action as a director (she's represented by Academy Films), it's clear that she's blazing her own path of limitless creativity. Of course, more control means more risks. More liability. More on the line. More exposure to fans, press, and the world at large that receives her art.
And it's not like getting here was easy, either—though for most of us on set, it just required a train to the far reaches of suburban England and a cab ride to the middle of the woods. For FKA twigs, it's taken a lot more than that. As the night gets colder, and darker, the clock keeps ticking.
And Dominant keeps krumping harder.
---
She bursts through the front door of Shoreditch House and ambushes me with a flustered hug. FKA twigs is late, and plainly exhausted. Not to take excuses from a pop star, but hers pass muster. When we sit down for breakfast, she explains the fatigue in a strained rasp. Most of the two days since I last saw her at the shoot were spent in an editing bay (overseeing the final cut on the "Glass & Patron" video) and a studio (finishing EP3) with what looks like not much sleep in between.
Yet she's not dressed like it. Twigs looks like she's ready for the most stylish marathon this side of London, wearing a knee-length, ruffled vest over a black Nike workout top and leggings (with seven gold earrings in each ear, red lipstick, and two backpacks). Or maybe she's going to another video shoot. Or she's just prepared to be on the move. Again, considering everything that's come before today, the preparation seems justified.
The short version—the one that's become the most basic distillation of Tahliah Barnett's life so far—is essentially: backup dancer for pop stars becomes pop star herself. The reality's a little less linear. It involves growing up poor in Southwest England's rural Gloucestershire, with a mother and stepfather who made sacrifices to fund ballet classes and opera singing lessons for their daughter.
Where there wasn't money in abundance, there was inspiration. Twigs' mother, a former dance teacher and gymnast, used to hide her daughter under the DJ booth at salsa nights, and kept copies of Vogue under her bed for twigs to pore over (to this day, she still makes costumes for twigs). Her stepfather—"a jazz fanatic" whose "musical collection is incredible," she explains—exposed her to eclectic sounds early on.
Some of the soft-hard sound textures fused in twigs' music today—blending choir music and R&B/hip-hop influences—can be traced back to singing hymns at Catholic high school as much as singing hooks for rappers at a local youth center. "My first boyfriend was a hip-hop DJ, and I learned quite a bit from him," twigs says, recalling a bedroom floor covered in records by Big Daddy Kane and Eazy-E.
Around the time she turned 17, twigs realized that she wanted to make music. She dropped out after a few weeks at a dance school in London, and went to Croydon College to study philosophy and sociology. It didn't go well. "I was banned from two classes," she recalls, "for asking too many questions." The upside, she explains, was that she fit in more than ever before: "I didn't stick out like a sore thumb. Maybe a boy would fancy me, you know?"
It was also around that time that her tastes and interests shifted away from the refined elements of the classics she was reared on. "I went in the opposite direction," she says. "I liked punk music. I gave up ballet. I rejected the training I'd had."
By the time she turned 18, she was working with producers in London, trying to find her sound (this was also when she wrote "I'm Your Doll," a song she's since reworked for EP3). A year later, she escaped to L.A. for six months, where she worked with various producers and experienced what she vaguely remembers as "a weird side of the music industry," with late nights in the studio and little real productivity. For her troubles, she ended up with a bunch of what she calls "really bad demos," and says she'd typically never hear from the producers she worked with again.
Eventually, she returned to dancing. An agent secured her backup gigs in music videos for the likes of Kylie Minogue and Jessie J. She also had a job as a youth worker, and performed cabaret at London's Soho nightclub The Box (with an act called "Spell on You") on the side.
As a youth worker, twigs taught teenagers how to sing, dance, write poetry, and play music. A career as an art therapist emerged as a distinct possibility. Fate, in the form of government budget cuts, intervened: Her job was eliminated.
It turned out to be a blessing in disguise. Twigs soon crossed paths with Tic Zogson, producer and A&R at innovative London-based label Young Turks. Tic introduced her to the Tempest, the Dave Smith Instruments drum machine she credits with "allowing me to create sounds before I understood how to use programs," adding, "if it wasn't for the Tempest, I wouldn't have started producing my own music." In December 2012, she released her debut, EP1.
Prioritizing the visual aspect of her music from early on, twigs released videos for all four songs on EP1, none of which showed her face. In early reviews of singles from EP1, some outlets even referred to twigs as "an outfit" or "group," so little information was out there about who he/she/it was. Behind the scenes, it was pretty clear that a star had been born: EP1 led to twigs being signed by Young Turks.
EP2, released in September 2013, was finished with the help of a new producer, Arca (who's since worked with Kanye West and Björk). She now had a label, but due to a trademark lawsuit from unknown kid-pop band, The Twigs, she had to tack the FKA onto her childhood nickname ("twigs," for the way her bones make cracking sounds when she dances).
By the time her debut album, LP1, arrived last August—with twigs' face brazenly stamped on the cover (as if it had been bruised or spray-painted red, no less), underground buzz had turned into a deafening roar of hype. Augmenting twigs' own production—merging R&B, choir, trip-hop, and electronic music—heavyweights Arca, Emile Haynie, Dev Hynes, Paul Epworth, Sampha, and Clams Casino contributed work to the record. The album was received with universal acclaim, including a nomination for Britain's prestigious Mercury Prize.
For all the praise that streamed in, there were also pitfalls. That small legal issue with The Twigs became a widely publicized problem, prompting the possibility of FKA twigs having to change her entire performing name altogether (the suit has since been withdrawn). And of course, a new reality of fame came along: racist swipes and vague threats on social media, made over her mixed-race heritage. Last September, twigs took to Twitter, and struck back: "I am genuinely shocked and disgusted at the amount of racism that has been infecting my account the past week," she wrote. "Racism is unacceptable in the real world, and it's unacceptable online."
"I wouldn't say I'm completely numb to it now, but there's definitely a numbness there," she says of the attacks, picking at the gaps in her fingerless black gloves. Six months later, on the "Glass & Patron" set, twigs appears unfazed by the detractors, directing a video for a song about being yourself and accepting who you are ("I just want for you to love you"). It's far from the harmonic opener of LP1, "Preface," which is adapted from the work of a 16th-century poet, Sir Thomas Wyatt. On it, she repeatedly intones: "I love another, and thus I hate myself."
"Looking back on when I did LP1, I had a really deep, weird self-loathing," twigs explains carefully, between sips of hot water and lemon. "I was weirdly self-harming through the people who I was forcing on myself," qualifying that she knows this kind of thing is "actually quite normal, as a young person."
"The two years previous to me doing LP1, I just didn't have a lot of…." She momentarily loses her voice, trailing off. "I didn't have a lot of respect for my heart."
"Now," she says, "I have way more respect for my heart."
---
"Today was supposed to be my day off, but"—she squints across the table—"I'm doing this." It's a beautiful, marigold morning in Los Angeles, three weeks after we first met in London, and FKA twigs has made one thing clear: She's not psyched for our follow-up. On arrival at what we'll describe as (per her repeated requests) an undisclosed location in L.A., it's hard not to feel like this interview is at best a nuisance, and at worst a full-on intrusion, taking up one of her two days off for the next few weeks. It's not that she's particularly rude or unpleasant, but it seems like doing press just isn't something she relishes. And while this may be true of many people who end up on the covers of magazines—to credit her with realness—twigs isn't great at hiding it.
That's how we ended up back in the same room, again, on the far side of another continent: I'm here to watch new videos from EP3 and ask questions we didn't get around to in London, partially because twigs spent a decent chunk of our time venting her various frustrations with the press.
To be fair, her interactions with some interviewers sound absolutely inane. After LP1 came out last summer, one journalist asked: "Can I hear your bones crack?" She imitates another one, who expected an answer to the declarative: "I hear you're a control freak." The entire experience made her reconsider the career she'd worked so hard for. "If this is what being an artist is," she recalled thinking, "I'm just not really sure this is for me. This"—the press cycle— "is horrific. I could be doing dance class right now."
Her exasperation hit a boiling point: She had to get away. Without telling anyone, twigs booked a one-way ticket to New York and left London. The logic? "If I run away, no one can get ahold of me, and I can't do any interviews." At a bar six months prior, she had met the producer Boots (who helped Beyoncé complete her critically acclaimed self-titled album in 2013), and decided to finally return his email. She went straight from the airport to Boots' studio, and work on EP3 was now under way. "Glass & Patron" was inspired by staying out until 4 a.m. with twigs' friends in the vogue scene and "just living New York," she says excitedly, savoring the memory as if she wishes she could go back.
Even though twigs is now done with EP3, the catalyst that started it, the press scrutiny, isn't done with her. The week before our second interview, T-Pain—of all people—told the world that twigs and her boyfriend, actor Robert Pattinson, are newly engaged. He tried to cover it up, saying it was an April Fool's Day joke. "I'd rather not talk about it," she responds, when I ask about the news being broken in this context. Her response isn't angry, or impatient, but genuinely sad. Has she confronted the situation? "Umm," she says before looking away, then staring back at me. "It's fine, I'm a pretty chill person, do you know what I mean?" she continues, before finishing, "If you can't touch it, it's not real." She repeats the vague statement, "If you can't touch it, it's not real," which may be her way of saying that she maintains a private, decidedly inaccessible part of her life. (Curiously enough, she sings that line as a question on "Figure 8," the first track she completed for EP3.)
"People don't realize that i have a sense of humor.
I'm very goofy, but i still have a very serious message."
The paparazzi have followed twigs and Pattinson, who happens to answer the door when I arrive for our second interview, since September. "It is pretty horrible," twigs says of the aforementioned racist social media attacks, often attributed to his obsessive fans. "But ultimately, I'm in an amazing relationship. So it doesn't matter." And in London, that was the extent to which she acknowledged the relationship.
After we get past the T-Pain slip, twigs begins to warm up. She explains her issue with the ubiquitous "alternative R&B" label assigned to her music by the media: "It's a little bit because of how I look. Maybe if I looked differently, then people would be like, 'Oh, I can hear these classical sounds in her voice.'"
"It's not that I don't want to be called R&B, but there are lots of other things, as well. So let's talk about everything."
The "everything" includes, yes, some R&B-esque melody structures, but also hard, hip-hop inspired drums, avant-garde electronic production, and field recordings (she mentions recording the click of a hotel key card and, later via Boots, water dripping from a toilet). Though her vocals on LP1 were more whispery and choral, on EP3 she plays with pitching her voice higher, like on the hooks of "Glass & Patron" and "In Time."
"I try and make it as visceral as possible," she says when asked about her vocal and production choices. "I want people to hear the sinews in the drums and the clicking sounds. I want it to feel physical, like it's in your body, because that's how I feel."
Besides leaving media obligations in the dust for a week to record EP3, twigs had new subject matter to get off her chest. She'd been thinking about the next stage of her womanhood, post-LP1, which largely reflected on a torturous relationship with an ex-boyfriend. "It's a lot to do with more openly female energy, and things that affect that balance. That's why I wanted to be pregnant in the video," she said in London of EP3 and "Glass & Patron." Here in Los Angeles, she gets deeper. "The EP is called Melissa, and 'Melissa' to me is my personal female energy. I've never called it 'Melissa' before the EP. It's not a weird alter ego. It's just my way of separating it from myself," she says.
When discussing "Figure 8" twigs cites honing in on her "Melissa," with the help of voguing and her vogue friends. "Voguing has helped me grow into the best young lady that I can be at this time," she says. "Through these boys"—the dancers—"I've learned to embrace parts of my femininity that I wasn't in touch with before," she adds, before explaining that Jamel Prodigy (who was in "Glass & Patron") taught her about everything in vogue being a figure eight. She demonstrates to me for about a minute, rapidly doing the gestures around her face and proving how they draw attention to one's expression: "LOOK at my face, LOOK at my face, LOOK at my face," she says. "Look at how powerful I am, look at how beautiful I am, look at how confident I am."
With the exception of "Glass & Patron," the other songs on EP3 explore twigs' still more vulnerable side. She wrote the explicit "I'm Your Doll" when she was 18 ("Wind me up/I'm your doll/Dress me up/I'm your doll/Love me rough/I'm your doll"). Though her new interpretation of the song is about not being anyone's doll, she remains shocked by the reason she wrote something so submissive and far from who she is today: "I realized that I'd been brainwashed and preconditioned to write a pop song and write it from that point of view." She wrote "In Time" after EP1 came out, a song about "wanting and aching" for the person you're in a relationship with to change, and in time, you'll both become the best versions of yourselves.
Then there's "Mother Creep," which she describes as an "apology."
"[It's about] the time when you realize that when you were 15, you didn't know everything." For her, she says it's also about "understanding­— through becoming the alpha female in my household now—how the other alpha female in my life did things."
As we wrap, it's clear twigs wants to go back to enjoying her day off. And she should. She spent the last week mixing an EP, directing and editing three videos for it, shooting the EP's cover, and shooting our COMPLEX cover. In the next two months, she'll perform at Coachella (twice), oversee the rollout of EP3, perform three of her Congregata shows in New York, and spearhead Soundtrack 7, where she'll direct seven short films live for the Manchester International Festival.
Before I leave, twigs finally shows me a first edit of the new videos (she directed all of them). It's clear that she's incredibly proud of her new music, and especially the cohesive narrative that binds the visuals together, beginning with a muse, Michèle Lamy, in "Figure 8." They also show, as she insists, a funny side of her, especially in the video for "In Time," where she shows herself pregnant again—and her water breaks as pastel paint streams down her legs. She laughs and explains that despite the pending birth, "When my water's breaking, me and my girls are like, 'We've got this!'"
"I feel like people don't realize that I have a sense of humor about things," she says, remarking on the perception of her as overly serious. "I'm very goofy, and I've enjoyed being able to incorporate some of that into my work, but still have a really serious message behind it. I think I've really enjoyed making this EP because of that."
She reflects even more. "I haven't had an easy life at all, but everything seems to be working out," twigs says. "I'm so grateful for that, because at times, especially when I was a teenager, I just couldn't see how things could ever get better, or how I'd ever be able to do this. I don't know what I thought I'd be doing. I'd always worked hard at music and at dancing, but I never thought I'd get the opportunity to be doing this, and have the belief of people to give me a budget to make a video."
"These things," she says, "are incredible."
---
Bass shakes the corrugated metal walls of a remote warehouse in Brooklyn's Sunset Park neighborhood. I've finally found Brooklyn Hangar, where twigs is rehearsing for three nights of her Congregata show, a high-production, Alexander McQueen-costumed version of her touring concert, which puts the underground dance styles of krumping, voguing, and bone-breaking in the spotlight. Congregata features her friends—dancers who were in "Glass & Patron" (Benjamin Milan, Alex Mugler, Javier Ninja, Jamel Prodigy, and Kaner Flex), New York vogue "legends" (Leiomy Mizrahi and Dashaun "Evisu" Wesley), and additional contemporary dancers (Ross Sands, DENZEL, and BATS). The first iteration of Congregata debuted in London, but here in New York, during the Red Bull Music Academy festival, twigs is in the birthplace of vogue and EP3, a project largely inspired by the dance form. It's essentially another homecoming.
Similar to the "Glass & Patron" shoot, there is intense camaraderie and trust between twigs and the dancers. Many of the moves during rehearsal require them to throw her in the air. During one part, she fearlessly falls backward, and they catch her without fail. Twigs often gives the show over to the dancers entirely, either so she can change into a new costume or watch them from the edge of the stage.
Early in Congregata, Dominant and another dancer, Malick "AndroidX" Bright, do an electrifying krumping face-off. Twigs re-emerges in a black tutu to play the Tempest with her band of four percussionists (which includes Tic, her original collaborator). The song, which starts with chaotic rock music and her own dizzying vocals, eventually becomes soothing. The guitars are replaced by a bright piano melody, and twigs watches her friends proudly while triggering new sounds. The unreleased track, named "Wet Wipez"—for the krumping crew founded by Dominant—is a tribute to her friendship and many collaborations with him.
---
In the woods outside of London, at one point during the "Glass & Patron" shoot, everyone on set is moved away while twigs is filmed giving birth in the back of a van, more or less naked from the neck down, with only a few people around her and a camera trained on her face.
We—everyone else at the shoot—can't see inside the van, but we hear contagious, childlike laughter. Whoever she's in there with—perhaps the stylist adjusting twigs' prosthetic baby bump—is having a good time with her.
But the moment the action starts up again, twigs turns to the camera, and as we watch her through the monitor, staring with such intensity, the dynamic begins to shift: She might not be able to see us, and yet, as her eyes lock into the lens, through the monitor, as each second ticks by, more and more, it's hard not to feel like we're the ones being watched by her.