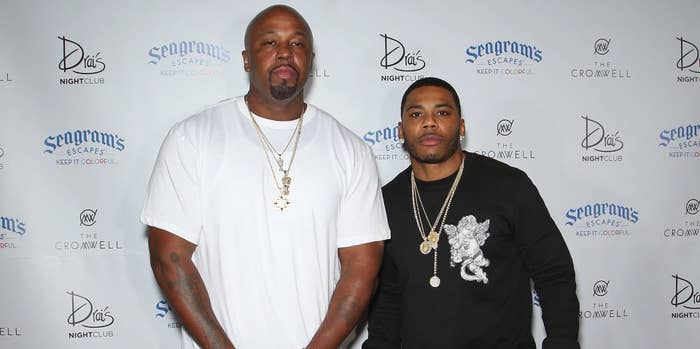 More than six months after they engaged in a public back-and-forth over St. Lunatics history, Nelly and Ali are feuding again.
On Sunday, just a week after accepting the I Am Hip Hop Award at the 2021 BET Awards, Nelly took to Instagram to send another alleged shot at Ali.
"It's called a career and in it you have ups and downs…some never have ups themselves so technically they just never had a career," he wrote. "They just was apart of someone else. FACT!!"
On Monday, St. Lunatics member Ali, who took the post to be a subliminal diss at him, responded by sharing an old interview of Nelly in which he credits Ali for helping him create his diamond-certified debut album, 2000's Country Grammar.
In the caption of the Instagram post, Ali explained how his pen helped propel Nelly to mainstream success, claiming he wrote the St. Louis rapper's debut album Country Grammar, which in the summer of 2000 topped the Billboard 200 for five consecutive weeks. It would go on to become only the ninth hip-hop album to earn a diamond certification from the Recording Industry Association of America (RIAA).
"I wrote it & he said it and we sold 10,000,000," Ali wrote. "Do you notice that he hasn't said ANYTHING about that country album !!?? Well I'll tell you why ...13,000 !!!! Wow , that's how many copies of that album he sold !! 'MY' career was writing you a career."
Back in February, Ali claimed in an extended post that Nelly had "hustled" the St. Lunatics group while pursuing a solo career: "I ended up helping him write…but got no credit!" he alleged in the below Instagram caption. "Wow! I got hustled!"
A few days later, during an appearance on the St. Louis-based show Wat Up Doe, Nelly disputed Ali's take on how this all went down, claiming that he was not even an original member of St. Lunatics.
"There's three people in this group that's been a Lunatic since day one: Nelly, Kyjuan, and City [Spud]," he explained. "We all went to school together. Alright? Cool. When we first started the Lunatics, Ali was not in this group. Stop me when I'm lying."