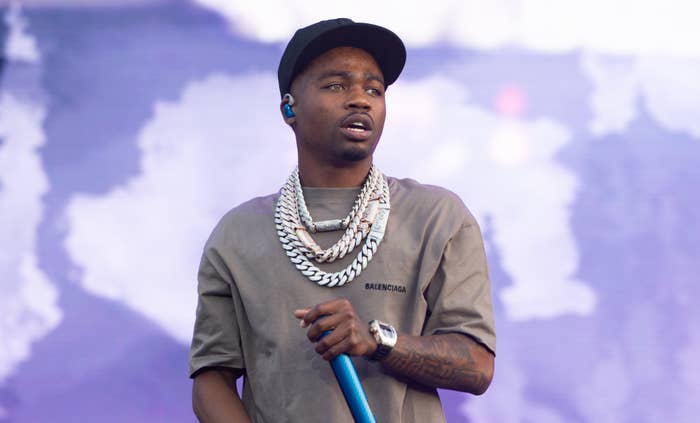 Following the tragic death of PnB Rock, who was robbed and shot last week in South Los Angeles at age 30, Roddy Ricch is calling his city to put an end to "senseless violence."
The Compton rapper took to his Instagram Stories on Tuesday to urge L.A. to "do better." 
"LA! Usually I try to mind my business and let the world rotate but we gotta do better," 23-year-old Roddy wrote. "It's too much senseless violence. Too much opportunity and motivation to take things other people work hard for. It's too much life to live to take someone else's away. I love my city but we can't keep going out like this. Before you know it, it'll be nobody left to take from or kill."
The hitmaker concluded, "Let's stay on point stay aware and find better ways to pursue our dreams because this shit turning into ALL NIGHTMARES."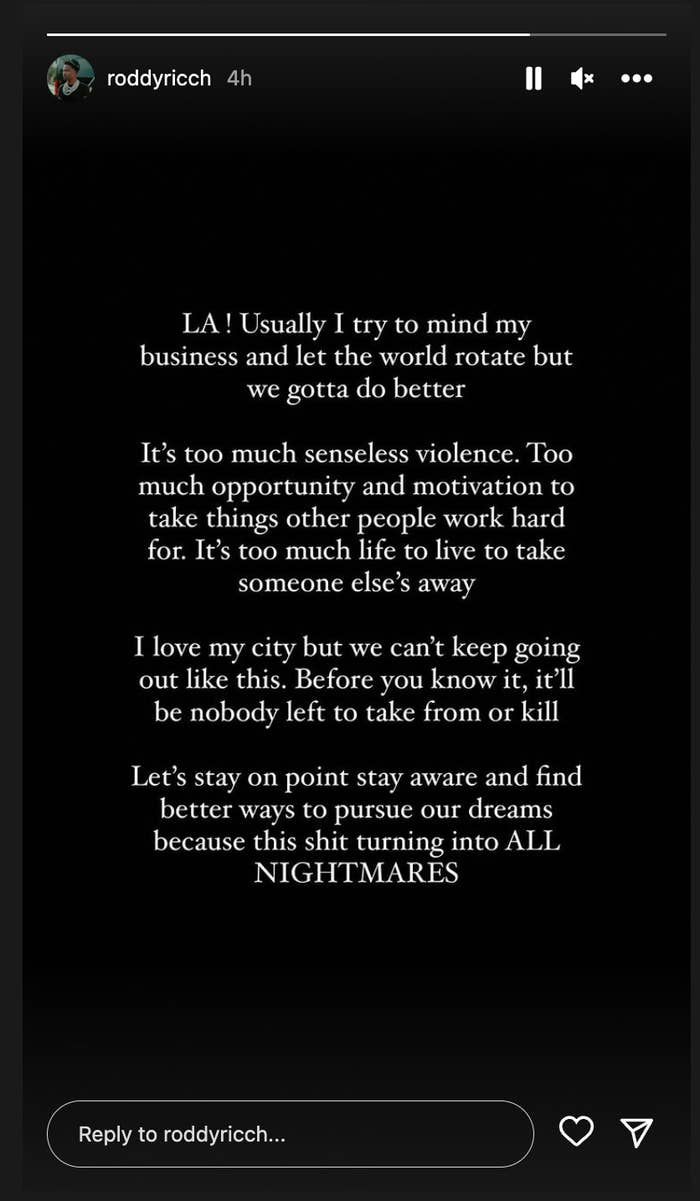 Roddy's statement comes a week after his "Evolved" collaborator PnB Rock was gunned down while eating at Roscoe's House of Chicken 'N Waffles with his girlfriend. The suspect robbed PnB of his jewelry and valuables, before shooting the Philadelphia native multiple times. The killer is still at large.
In an Instagram-shared statement amid a flood of tributes to PnB, the late artist's label Atlantic Records called his death a "senseless loss."
"PnB Rock was more than an artist," the label wrote. "To many, Rakim Allen was a great friend. He was also a wonderful father to two beautiful little girls. This news is heavy on our hearts and we are all hurting over this senseless loss."
At June's Something in the Water Festival, Roddy paid tribute to fallen rappers Juice WRLD, Nipsey Hussle, Drakeo the Ruler, and Lil Keed while performing "Die Young," where he asks on the chorus, "Tell me, why the legends always gotta die quick?"
A week prior, Ricch missed his Governors Ball performance in New York after being arrested on gun possession charges, which were dropped shortly after.