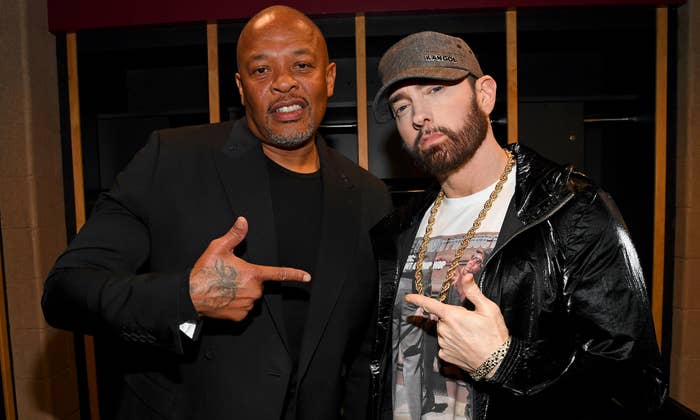 Dr. Dre sparked a debate on social media Sunday night, as he posted a video of Eminem rapping the closing verse of his 2020 song "Godzilla," and asked the hip-hop community: "Marshall Mathers vs Who???!!"
Granted, while Dre didn't specify whether or not he was talking about Eminem facing off in a future installment of Verzuz, Swizz Beatz, who is a co-creator of the live battle series, jumped into Dre's comments to offer up a rap legend who he thinks could take Em in a head-to-head matchup. 
"BUSTA!!!!!!!!!!! Let's go," Swizz replied.

It isn't the first time Busta Rhymes' name has been thrown around in a conversation involving future Verzuz matchups. 
Back in September, Fat Joe said that artists are afraid to go against Busta and his catalog.
"Fat Joe is scared to do Verzuz with Busta Rhymes and so is everybody else," Fat Joe said during an IG Live stream. "You gotta understand, sometimes you ever notice—you seen boxers and they knock everybody out? People be scared to fight those boxers."
Joe added, "Busta Rhymes is gonna out-rap, out-perform anybody who goes up in a Verzuz with him. That's a fact. Yo, Busta Rhymes nobody wanna get in there with you, man. You might have to be an honorary—they gotta give you the check for no reason."
Check out Joey Crack make his case for Busta in the clip below.