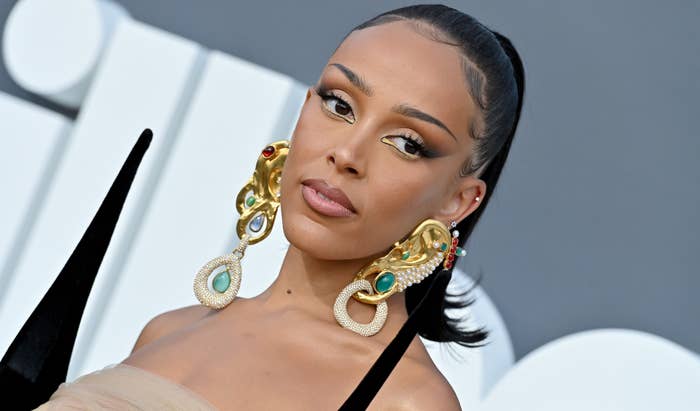 Doja Cat hopped on Instagram Live on Thursday to showcase a new cut.
During an Instagram Live session, the Grammy-winning artist explained why she decided to shave her head, revealing that she's never been a fan of her natural hair.
"I just can't believe it took my this long to be like, 'Shave your fucking head,'" Doja shared. "Because first of all, I don't wear my hair out. You guys have seen me wear my natural hair out—I had like two eras where my hair would be out, like I would straighten it. There was a moment where it was natural and I don't even wear it natural because I don't feel like it. It's just a fucking nightmare, dude. I'm over it. I'm really liking this."
Doja continued, "What is the use of having hair if you're not going to fucking wear it out? I don't even sport it, so I'm shaving it off. There's no point. I've never felt so fucking happy, like…it's very funny how much of an effect taking my hair off my head has positively influenced me."
She went on to say that she's "never liked having hair," adding that even since she was young she never felt that her hair was "cool."
"I feel like I was never supposed to have hair anyway," she admitted. "I don't like having hair. I never liked having hair. I cannot tell you one time since the beginning of my life that I've ever been like, 'This is cool.' I just do not like to have hair."
Shortly after explaining why she shaved her head, Doja took a razor to her eyebrows in front of her Instagram followers.
"My makeup artist just texted me, 'Are you shaving your brows off? I'm driving the fuck over,'" she said. "I'm gonna do it."
After some fans expressed their concern over Doja's decision, she assured them that she is "just fine."
"It's so funny, all the Terry Jo's and the country girls in my chat are like, 'Are you okay, sis? Are you okay? Sis? Are you okay, baby?'" she said. "I'm fine Terry Jo, I'm just fine. I'm doing dandy."
Doja's new look arrives a few days after she was involved in a series of heated exchanges on Twitter, which resulted in the 26-year-old rapper accusing the platform of taking away her ability to "reply to anything."