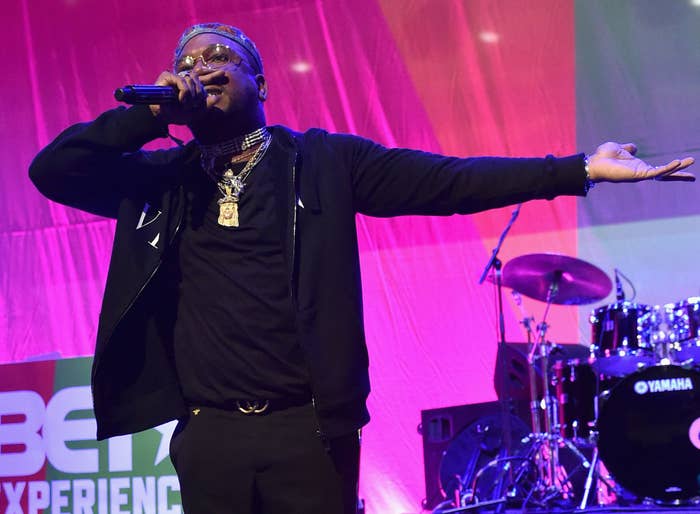 In a recent interview with HipHopDX, CyHi the Prynce shed light on his controversial 2015 track, "Elephant in the Room," in which CyHi shoots up the Def Jam offices, kidnaps Kanye West, and throws shots at G.O.O.D. Music.
"You know what, that ["Elephant in the Room"] was for an album we were doing," the 36-year-old rapper told HipHopDX. "We were going to do this like Dr. Dre/Eminem album and that was a song Kanye actually gave me. So, I wanted to make it feel like that kind of vibe when I did it. You know how Eminem used to always go at Dre? That's what I wanted to do."
Uploaded to SoundCloud in August 2015, "Elephant in the Room" sees CyHi kidnap Kanye and drive off with him in his car. CyHi raps to 'Ye, "But why wasn't I on the cover of the Complex, you must've not seen what I did to Funk Flex, yes, you my n***a, but I'm coming up to shine next."
Although Kanye and CyHi's "Dr.Dre/Eminem" type album has never seen the light of day, the pair have connected on several projects over the years, including Kanye's 2010 My Beautiful Dark Twisted Fantasy album and G.O.O.D. Music's 2012Cruel Summer compilation. Asked by HipHopDX to name his favorite Kanye album, CyHi wouldn't offer up a specific title, but he did expand on what makes Kanye a creative genius. 
"To me, I think all his albums are great. I really feel like a lot of times what he does is he pushes the envelope, said CyHi. "When you first come in the music game, you kind of want to be like everybody else. You kind of want to fit the algorithm, fit the mold, fit what a rapper looks like, act like, talk like. Then once you've won the 21 Grammys and all the other great things you've done, now you're just trailblazing. I think with him, it's just that's where he's at. He comes with a new idea and people get to sit and study it, and then they try to make a better version of it."