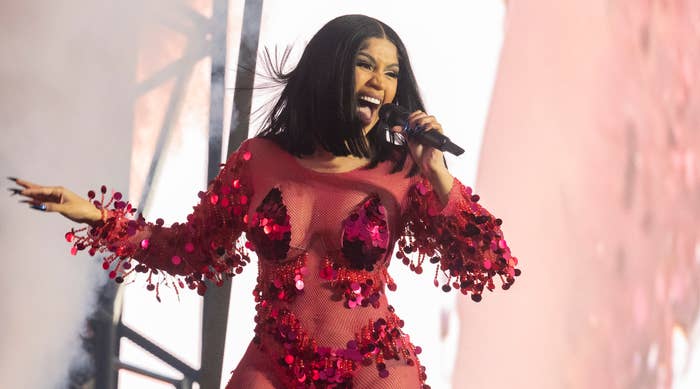 Several months after expressing her desire to get a tattoo as a tribute to her son, Cardi B has officially revealed her new facial ink.
The Bronx rapper hopped on Instagram Live on Saturday to unveil new tattoos featuring the names of her son Wave, 1, and daughter Kulture, 4. Wave's name is written in red-colored cursive on the side of Cardi's face, while Kulture's name is inked in a similar style on her arm.
"You want me to be ugly so bad, but I'm not," Cardi said in the clip, before revealing a close up of her new ink. "And this without a filter, bitch […] I tatted my son's name because I love him. And I tatted my daughter's name."
After admitting in 2021 that she's thankful she never got a face tattoo as a teenager, Cardi had a change of heart in January, admitting that she wanted to get Wave's name tattooed on her face.
"Random but ….I'm 1% close too tatting my sons name on my face," she tweeted at the time. "I really really wanna do it! I want mine on my jaw."