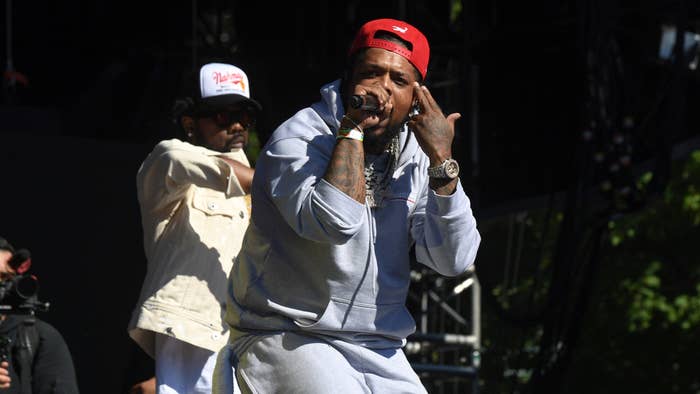 Directly after facing the anger of wrestling fans with comments he made about Mr. T, Westside Gunn responded to a troll who doubted his claim that he's dropped "classic after classic." 
On Wednesday, the Griselda rapper claimed his smallest chain cost more than all of Mr. T's chains combined. While Westside has since clarified he wasn't dissing the legendary wrestler and actor, that didn't stop some from coming for him on social media. He also seemingly took issue with the coverage of his comments.
"Y'all been talking about me alot in the blogs lately it's a shame y'all don't do that when I drop classic after classic, just dropped a flawless double album 33songs," he wrote on Twitter on Wednesday. "Guess negativity is the only thing that matters not the culture [shrug emoji]."
After Gunn shared the tweet, it was reposted by 2cool2blog, with commenters popping up to cast doubt on his "classic after classic" claim.
"They got to stop with saying classics," wrote Instagram user @djrichroc, "Nobody even knows your work like that globally."
In a response, Westside asked about the person's profession, which led them to call him a "one trick pony."
"Hahaha n***a u know how many businesses I own how much I'm worth just in real estate, fuck this rap shit," the 39-year-old artist replied. "U wearing big ass RocNation hats ain't gonna do shit, wait hold up this one trick pony is with Roc Nation [facepalm emoji] make sure u get the Roc Nation HOV be wearing u know the one this one trick pony design [laughing-crying emoji] It'll be out sun."
He continued to respond to people, reiterating that he wasn't dissing Mr. T, insulting those who cast doubt on his talents, and questioning why people felt he was "triggered" by what some had to say.
"N***as have no life seriously & I got receipts n***a 1.3 mil," Gunn wrote in one reply. He added that he's just "having fun" with the comments before redirecting his attention to what he perceived as "negative" attention from blogs and publications.
"Again when I give to the kids NOTHING, when I give to Needy Families NOTHING, soon as I say my chain cost more than Somebody every wanna put my D… in they mouth, y'all in a illusion, broke MFs trynna talk down on a rich one, only on the internet, suckas talk down on a Gangsta," he wrote. "MFs don't put in no kindve work for the culture making no impact but tweet Allday waiting for some controversy wit popcorn so they can chime in & get RTs y'all weird as hell." 
Read what Westside Gunn had to say below.