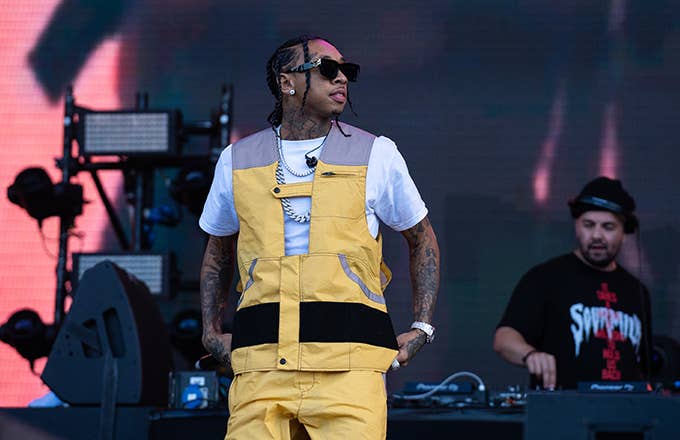 Following the news of ASAP Rocky's arrest in Sweden, a number of notable musicians and even politicians have come forward to make sure the rapper makes it home sooner rather than later. Among those to show their support of Rocky is Tyga, who has announced that he will no longer play a show in Sweden he had scheduled for later this month.
"I have decided to cancel my show," he wrote on his Instagram story. He also posted a statement to Twitter. "I will not be performing #FREEASAPROCKY."
Rocky was arrested in connection with a Stockholm incident that saw him and some other attacking two men he said were following and harassing him. He also accused the two men of sexually assaulting women.
Due to the arrest, Rocky had to cancel the rest of his European shows in July. Initial reports indicated that Rocky was living in "inhumane conditions" at a Swedish detention center, but his attorney recently debunked those allegations. While lawyer Henrik Olsson Lilja first said there was a smell of "urine in the cell in the arrest," the lawyer later said that Rocky is beeing "treated properly."
Recently, a number of Rocky's closest friends and collaborators announced that they would no longer play shows in Sweden in solidarity with Rocky. Tyler, the Creator tweeted, "No more Sweden for me, ever," and Schoolboy Q later followed up with, "I'm not goin' nomo' either."