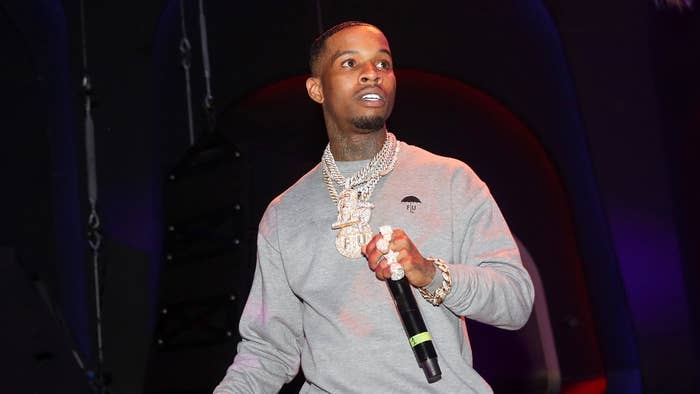 Ahead of his hearing next month in an effort to get a new trial, rapper Tory Lanez has shared an open letter addressed to Los Angeles District Attorney George Gascón, once again claiming his innocence in the shooting of Megan Thee Stallion.
"Today I take a stance as an innocent Black man, wrongfully convicted of a crime I did not commit," Lanez wrote in the letter, shared on Instagram. "I've watched 2 district attorneys from your office by the names of Kathy Ta and Alex Bott unlawfully misuse their authority to hide and suppress any and all exculpatory evidence that exonerates me, or furthers my innocence. I was completely robbed and deprived of a fair trial."
Lanez is scheduled to argue a motion for a new trial on May 8. He claims that the prosecution "manipulated a false narrative" against him, which has left him "with no choice but to expose, and make aware, the practices, the behind the door deals, and unjust system" that he believes "illegally" convicted him. In the caption, he suggested there's evidence that the prosecution deliberately obfuscated.
He argued that he's not fighting against the guilty verdict just for himself, but for his 6-year-old child, family, fans, and "most importantly the hundreds of thousands of Black and Hispanic minorities that cannot adequately fight for themselves." 
Lanez closed out the letter by directly asking Gascón to reconsider the verdict. "Mr. Gascón, I come to you today as a wrongfully convicted man, not asking for sympathy, nor compassion, but for you to simply do what is fair and right by the laws of California, and most importantly in the eyes of God," he wrote. In the caption, he added that he will be "posting the OUTRAGEOUS & DISGUSTING INJUSTICES used" against him by "the PROSECUTION to get the conviction they so DESPERATELY wanted."
Last month, Lanez and his legal team filed an appeal to dismiss the charges against him. He was found guilty in December of assault with a semiautomatic firearm, having a concealed and loaded firearm in a vehicle, and discharge of a firearm with gross negligence. Lanez has not yet been sentenced but is facing up to 22 years in prison.