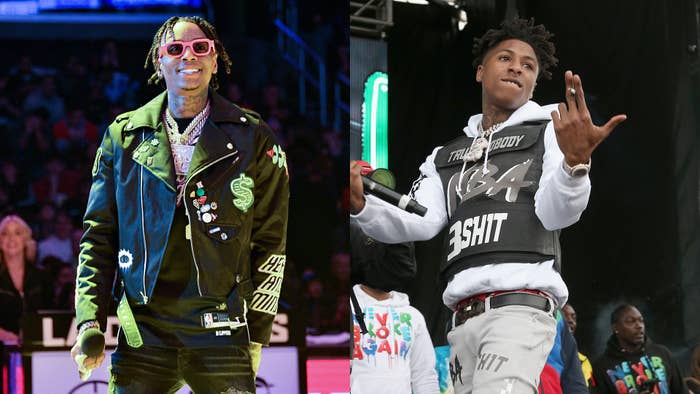 Soulja Boy took issue with YoungBoy Never Broke Again dropping a project the same day as him, and now he's dissed the Baton Rouge rapper further.
The two rappers clashed again after Soulja Boy made his feelings about them sharing a release date known. He suggested that he can never be compared to YoungBoy or Lil Durk because neither of them has made a record the same caliber as "Crank Dat," his breakthrough single. "That's a fact!" replied YoungBoy to a post with Soulja's comments. "I swear it's gone be nice to meet you too."
In a reply, Soulja Boy added, "N***a this ain't no meet and greet."
But he saved his harshest words for another Instagram Live stream. "Dent face ass 'lil n***a," he said. "'Fore we put another dent in your head, bitch-ass boy. Y'all can't wait to meet who, n***a? Y'all don't wanna meet me n***a. You don't know me, fuck n***a. ... Boy you don't not wanna meet me, n***a. Fuck you talkin' about, n***a?! ... Put another dent in your head, n***a! It's gonna be nice to meet what, n***a?!"
In the stream, he got increasingly aggressive as he spoke about YoungBoy's tweet. "Bring your lame ass out the fucking house," he continued. "Ain't never shot shit, ain't never did shit, n***a. … I can't wait to meet you, wait 'till you get off house arrest. … Your house covered by the motherfucking police, n***a. … You been in the crib too long, n***a."
Soulja's latest comments on YoungBoy come just days after he dissed him and Lil Durk for their plans to drop on the same day as him, even though the latter was forced to delay his respective project. "Lil Durk, you scary as fuck. If you gonna fight YoungBoy, go fight him, n***a," said Soulja during an Instagram Live stream on Tuesday, May 9. "Fuck wrong with you, boy? I know you seen me announce my album, n***a … And the next day you gon' hop on here talking 'bout you 'Almost Healed.' Man, you almost lame, n***a. Is y'all n****s gonna scrap or what y'all gonna do?"
He suggested that May 12, the release date of YoungBoy's Richest Opp and the original release date for the since-delayed Almost Healed, was "Soulja season" because of his own project, Soulja Season. Y'all n****s tripping," he continued. "I'm finna outsell Lil Durk and YoungBoy at the same time. Add Lil Durk's album sales and add YB album sales, add them together … This my date, n***a, May 12. Y'all only tryna drop 'cause y'all seen me drop, n***a. … After this, I don't wanna see no more n****s dropping on the same date as me, on God."
For what it's worth, Soulja has since shouted out Durk for "pushing his album back."