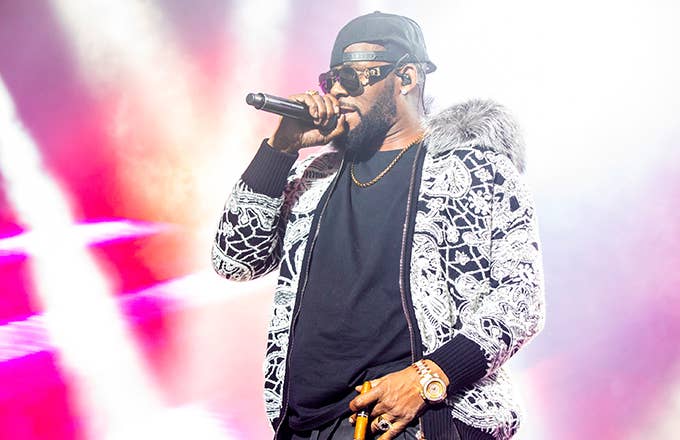 Update 1/7/19 5:50 p.m. EST: As Daily Mail points out, the content on the 'Surviving Lies' Facebook page included targeted harassment, with one of his accuser's addresses leaked. The page also claimed there was a sex tape of R. Kelly and one of the accusers, posting cropped screenshots on the page itself before the page was deleted. The page also posted numerous alleged intimate texts between Kelly and the accuser.
The accuser who had a video of them posted online previously accused R. Kelly of giving her herpes and filming them having sex without her consent. Considering her accusation against him, the video in question probably relates to her accusation against him. It is unclear where the sext tape in question was posted, but Facebook clearly weren't having it on their site, hence the deletion of the page.
Update 1/7/19 4:56 p.m. EST: Facebook has shut down the page dedicated to "exposing" R. Kelly's accusers. "The page violated our Community Standards and has been removed," a spokesperson for Facebook told TMZ. "We do not tolerate bullying or sharing other's private contact information and take action on content that violates our policies as soon as we're aware."
Read the original post below. 
TMZ reports that a new page on Facebook called 'Surviving Lies' has been set up by R. Kelly, or someone on his team, in an attempt to "expose" his accusers one by one. Sources close to the disgraced singer explain that they're attempting to clear his name after the airing of Lifetime's docuseries Surviving R. Kelly, despite the mounting evidence that shows just how awful of a person he really is.
The first person the page is targeting is Asante McGee, who appeared in the docuseries series last week. She alleged that she was one of Kelly's "sex slaves," but now the Facebook page has linked to a YouTube video which apparently shows Asante's daughter denying her mother's claims of sexual assault. The video features a recording of a conversation between an unnamed party and Asante's daughter, who claims that her mother was simply accusing Kelly for money.
The identities of those talking in the video has yet to be verified. The page also went so far as to list Asante McGee's arrest history, before claiming that she is working with Joycelyn Savage's father to extort money from Kelly, who continues to deny all allegations leveled against him.
The person or people behind the page allegedly plan to launch a website under survivinglies.com, but right now it leads to a blank page with a domain that is currently for sale. It is still not 100% certain whether the 'Surviving Lies' page is definitely run by Kelly or not.Kelly, meanwhile, says he plans to sue everyone involved with the Surviving R. Kelly docuseries despite his refusal to watch it. Guilty conscience, maybe?