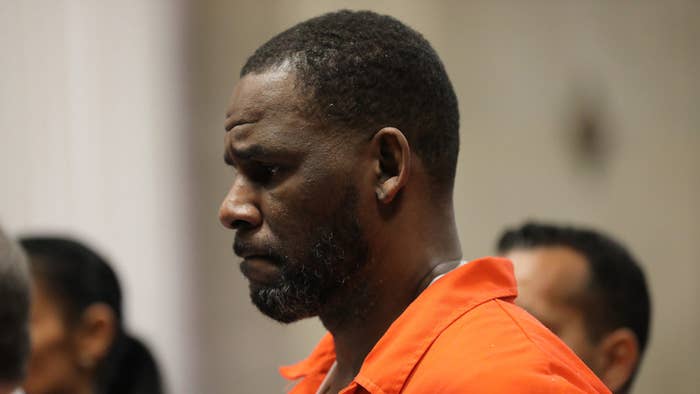 Following Joycelyn Savage's claim that she's pregnant with R. Kelly's child, the disgraced singer's lawyer has denied her claims and called her "insane."
In a statement shared with TMZ, Kelly's lawyer Jennifer Bonjean said that Savage, an alleged victim of abuse at the hands of the 55-year-old, "is certainly not pregnant with R. Kelly's child." The 26-year-old Savage, who also claimed in court documents that she is engaged to Kelly, released a 24-page book on Amazon titled Love and Joy of Robert. In the book, she asserted that she is a couple of months pregnant with his child even though he's been behind bars for the last year or so.
Bonjean has disputed that Savage's short book is a tell-all memoir, and added, "People are just insane." This raises the question as to whether she is actually engaged to him, too, as that news has not been confirmed. Savage claimed that she had gotten engaged to him in a letter sent prior to his sentencing. More recently, she told the New York Post that Kelly approved an image of her sonogram for publication in the book.
"I thought I had contracted COVID-19, but the most amazing news of all was that I was expecting," she wrote in her book, which she said will get a second part next year. "It was a happy day but an incomplete time in my life. Today I am grateful to God for giving me the most precious gift. Robert is extremely excited about the news that I am having a baby and feels sad that Robert will not be able to be here with us." 
Kelly was sentenced to 30 years in prison earlier this year. U.S. District Judge Ann Donnelly delivered the sentence in court "after hearing from several survivors who attested to how Kelly's exploitation reverberated across their lives," per the Associated Press.
On Saturday, ABC News reported that Kelly's federal trial is set to start on Monday. It's a retrial of sorts in regards to his 2008 state child pornography trial, during which he was accused of producing a video of himself having sex with a girl who was 14 at the time. The woman, who is now in her 30s, did not testify in the previous trial but will do this time around. Kelly is facing accusations he threatened and intimidated the alleged victim to make sure she did not testify against him.