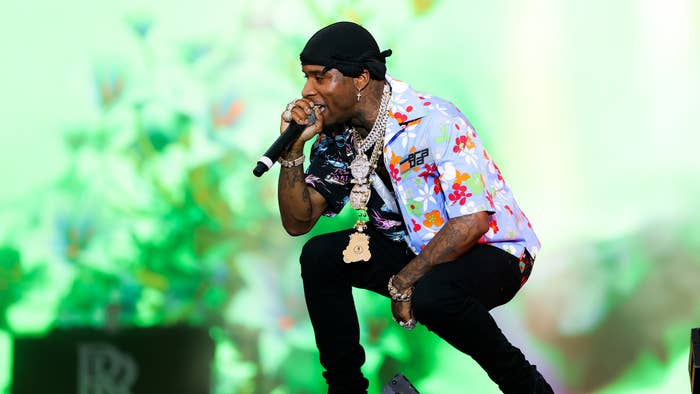 Even though Tory Lanez had reportedly engaged in talks about a settlement with prosecutors, the rapper has not reached a plea deal in his felony assault case involving Megan Thee Stallion.
Rolling Stone reports the 29-year-old Canadian did not reach a plea deal by the Nov. 3 deadline, and his defense lawyer Shawn Holley agreed to a Dec. 14 preliminary hearing on behalf of her client. The hearing is expected to include 90 minutes of testimony, per Los Angeles County Deputy District Attorney Kathy Ta.
The hearing will decide whether the case will go to trial. "As in every case, the lawyers for the parties discuss the possibility of resolving the case," said Kathy Ta. "This case is no different. That said, our position as to what did and did not happen in this matter remains unchanged."
Lanez, real name Daystar Peterson, allegedly shot Megan Thee Stallion in her feet following an argument during the early hours of July 12, 2020. The two had attended a Hollywood Hills party and left in an SUV. Lanez is facing two pending felony charges; one instance of assault with a semiautomatic, and one instance of carrying a loaded, unregistered firearm in a vehicle. If convicted, he could get hit with up to 22 years and eight months in prison.
In September, Ta said the rapper's defense team had engaged in "meaningful discussions" about reaching a plea deal. The two parties were given until Nov. 3 to meet a deal, with preliminary hearings to come in December. 
"I was shot in both of my feet and I had to get surgery to get the shit taken out, get the bullets taken out," said Megan Thee Stallion in a video shared last year. "It was super scary. It was, like, just the worst experience of my life. … Thank God that the bullets didn't touch bones, they didn't break tendons." She only revealed the identity of the shooter approximately two months after the incident. He has denied the allegations.