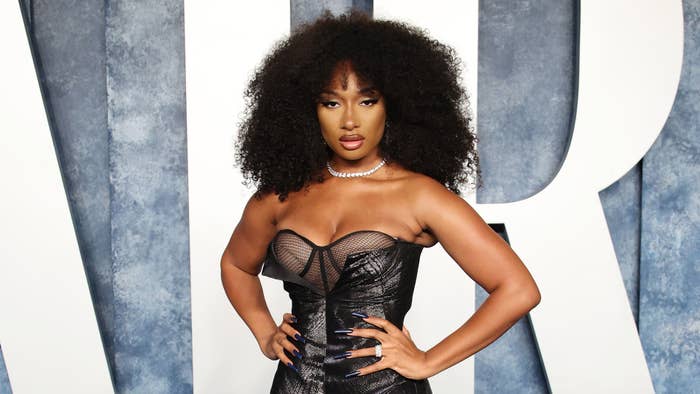 In an interview at Vanity Fair's Oscars after-party, Megan Thee Stallion said "auntie" Beyoncé has already hooked her up with tickets to the Renaissance World Tour.
"I ain't gonna tell you who I gottem from," she joked when asked by Entertainment Tonight about tickets. "Because they're gonna be hating on me, but I got 'em. … You know I called up them directly, 'Beyoncé! Lemme get a ticket!'" She was also asked if she was going to the Oscars after-party hosted by Bey and Jay-Z, and said, "I am, after this. You know Beyoncé is my auntie! … This my first night out, and here. I'm ready." The appearance is Megan's first on a red carpet since the end of her court case against Tory Lanez in December, 2022.
During her brief interview, she also wanted to make sure fans knew that she's been working on new music and they can expect "a new album" at some point. It's unclear when she's expected to drop a new full-length, but her last studio effort, Traumazine, arrived in August, 2022.
Despite the conclusion of her legal case with Tory Lanez, Megan's legal woes aren't over just yet. At the end of 2022, it was announced that her legal battle with record label 1501 Certified Entertainment is headed to a jury trial after a Houston judge sided with her.