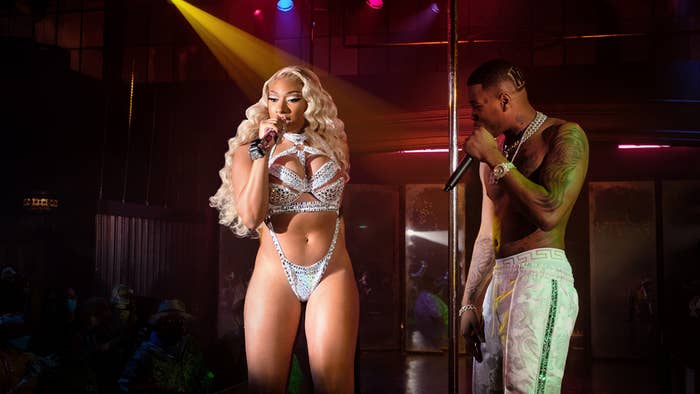 On the penultimate episode of the second season of P-Valley on Sunday, Megan Thee Stallion made her debut in the Starz series as her alter-ego Tina Snow.
In her appearance on the show, Megan brought her rap alter-ego to life both on and off record. Showcasing her acting chops in her second ever non-reality TV role—her first was as a guest star on the NBC series Good Girls—she also debuted an original song she wrote and recorded for the episode, "Get It On the Floor." Donning a luxurious fur coat to perform on stage at The Pynk alongside Lil Murda, portrayed by J. Alphonse Nicholson, Megan fully embodied the character she's been playing on fan-favorite records for years.
"We have been wanting her to be on the show, whether it was as a rapper, as an actress, from season 1," series creator Katori Hall told Entertainment Tonight, via Rolling Stone. "With Tina Snow and [Lil Murda] onstage together, it was just this dynamic duo that I really, really am so proud that we were able to pull it off. When they performed it that day [on set], the crowd went wild. They just couldn't believe what they were watching and that they were, like, this close from Megan Thee Stallion and Tina Snow."
Megan's role on P-Valley comes not long after it was reported she would make her feature film acting debut in the A24-produced musical comedy, Fucking Identical Twins. She will be joined in the R-rated film by Nathan Lane, Megan Mullally, and recent Saturday Night Live favorite Bowen Yang. The film does not yet have a release date confirmed. Recently, she also delivered her new single "Pressurelicious," which features Future.
Check out a clip from Megan Thee Stallion's P-Valley appearance above.