Lil Durk pushed back his first solo album in over a year, Almost Healed, at the last minute in the face of YoungBoy Never Broke Again swooping in with Richest Opp.​​​​​​
In the days and hours leading up to Friday, Durk was adamant that he was dropping May 12, and YoungBoy didn't waste a second trolling him for the delay.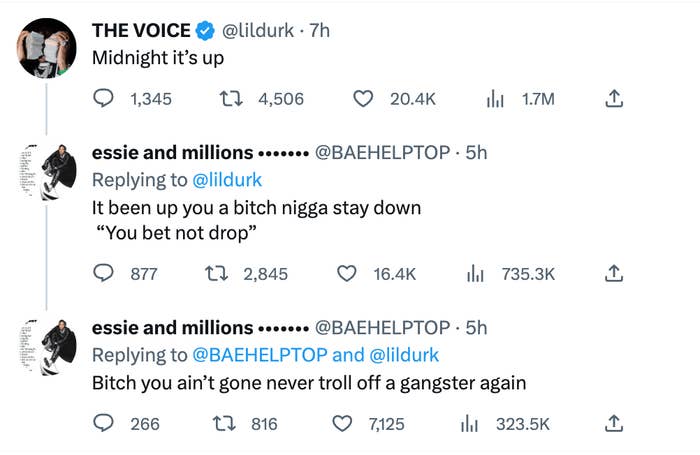 Fortunately Durk still had the J. Cole-featuring single and video "All My Life" up his sleeve.
Built around a huge hook, the song is the first time the two have appeared on wax together. "Lately I just wanna show up and body some shit," the Dreamville boss raps. "Always been a lil mathematician, lately it's cash I'm gettin'/I'm losin' count of these bags, I been movin' too fast/Hard times don't last, 'member when cops harassed." 
The two hitmakers teased the collaboration with a series of photos of them shooting the video. They also shared a clip of them filming with a crowd of kids, who joyfully chanted the chorus as Cole recorded from his phone. In the caption, Durk promised he would drop the cover art and release date for his project if he got over 100,000 comments. He reached the milestone with ease.
YoungBoy Never Broke Again, who just dropped a 33-track album less than a month ago, couldn't abide Almost Healed getting its moment in the sun. "@lildurk you a bitch & yo nasty ass hoe and it's shown," the 23-year-old tweeted on Monday, going on to diss DJ Akademiks and mention Durkio's ex India Royale. Richest Opp sees him go after Durk, Cole, Drake, and Lil Yachty specifically.
Durk, 30, appears more focused on self-improvement than beef at the moment. He recently spoke on how he's gotten into therapy, making Almost Healed a title that resonates.
"I got a therapist so I cope different," he shared. "You know, it don't just gotta be I'm finna go take all these drugs, or I'm finna go get my feelings like this. I got my family, I got my girl, I got a therapist, I got my kids and I got the studio. … You gotta be careful how you tell people, what you tell people, because they can use it against you. They can find out your weaknesses," he explained. "By me doing that, for all these years, I got used to it. So now, when I talk to the therapist, then it start getting more emotional. But like somebody on the street, you'll never even see me shed a tear."
Listen to Lil Durk and J. Cole connect on the new single "All My Life" below via Spotify.