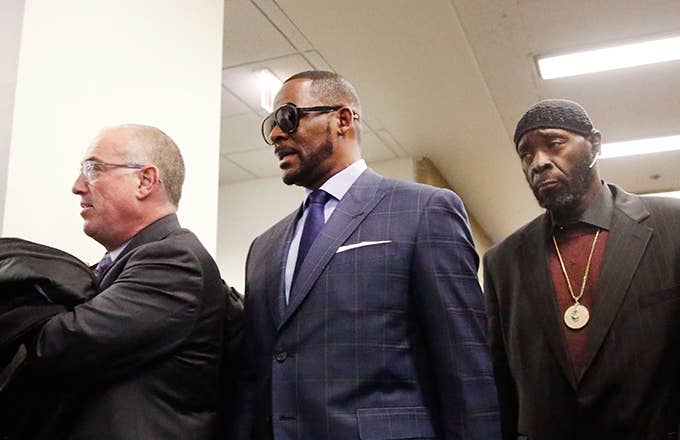 It's no secret that R. Kelly has some financial issues right now, but it started to look particularly dire for the disgraced Chicago singer when he made it clear he wasn't going to be able to pay the $161,000 in overdue child support he owed. Kelly was arrested last week for failing to make the payment, ultimately serving three nights in Cook County Jail last week. As CBS Chicago reports, he requested to have the payment reduced, but the a Cook County judge has refused his request.
On Wednesday, Kelly challenged the $21,000 monthly child support payments, requesting that they be reduced because he's currently not actively working. Darryll Johnson, Kelly's publicist, has stated that the singer has no asset to sell and he's currently being represented for free. He did, however, suggest that he was still recording new music. "He's recording every day. He has a studio in his home, so he's always recording," Johnson added.
John also said that the child support payments Kelly is being forced to pay don't make much sense. "None of it makes sense," he said, explaining that two of his oldest children are legally adults at 20 and 21. His youngest from the marriage is 17. Kelly reportedly stopped paying his child support payments last spring, totaling more than $190,000 in missed payments.
"If you can't play a show, if you can't go out on tour, if they're not streaming your music anymore, obviously you're going to have financial problems. You don't need to be a rocket scientist to figure that out," attorney Steve Greenberg explained. The child support case has been continued to a hearing date in May.