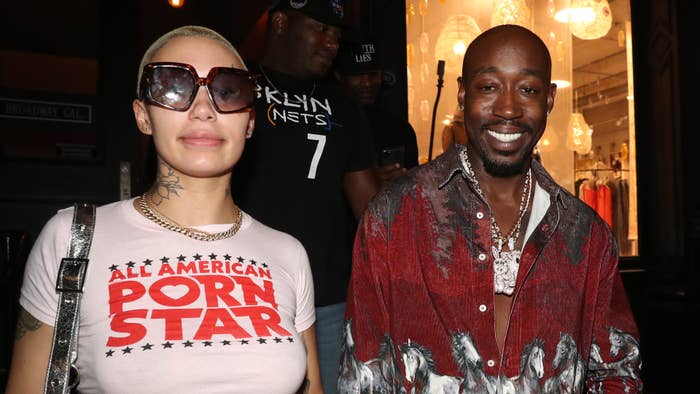 In an extensive Twitter thread shared on Thursday, Freddie Gibbs' ex-girlfriend Destini Fox has put the rapper on blast for allegedly ghosting her after she found out she was pregnant.
"So y'all remember when I dated Freddie Gibbs right?" wrote Destini, who goes by the name The Fit Mami, alongside a photo of the two of them together. "Well let's talk about it. … So Freddie and I met in 2020 when he slid into my DMS on Instagram. And for the record, he always knew I did porn and was very supportive. After we made it official blogs started posting about us, we didn't care we were just having fun."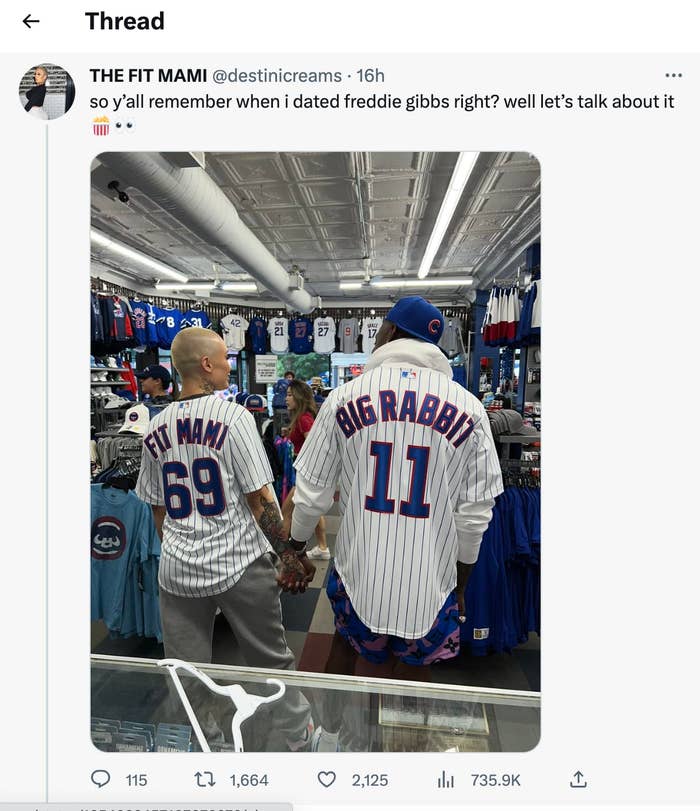 Not long after they made their relationship official, they went on a trip to Europe together, and as she put it, "everything was great." They got so serious, in fact, that they openly spoke about having a baby together. "I'm ugly without u I really ain't shit without u," Gibbs wrote in a screenshot of an iMessage chat with Destini. "I'm just another n***a. Imma make u proud. I love u."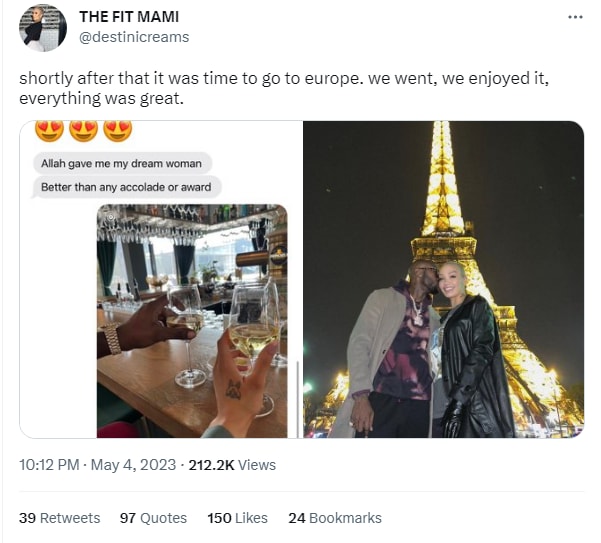 Following their trip to Europe, Gibbs got jumped in Buffalo, New York when he was out with Destini. The incident she is referring to is when Gibbs was caught on video in May, 2022 getting jumped by several men, who were allegedly associated with the rapper Benny the Butcher.
"Everything was good until we got jumped in Buffalo," she wrote alongside a screenshot of her fighting off people in the clip. "That day really changed everything for me. I ended up having to get a prescription for xanax because I was so paranoid. I was having nightmares. It was horrible." Around this time, she also apparently received threatening voice memos from "one of his baby mamas" whom she hadn't even met.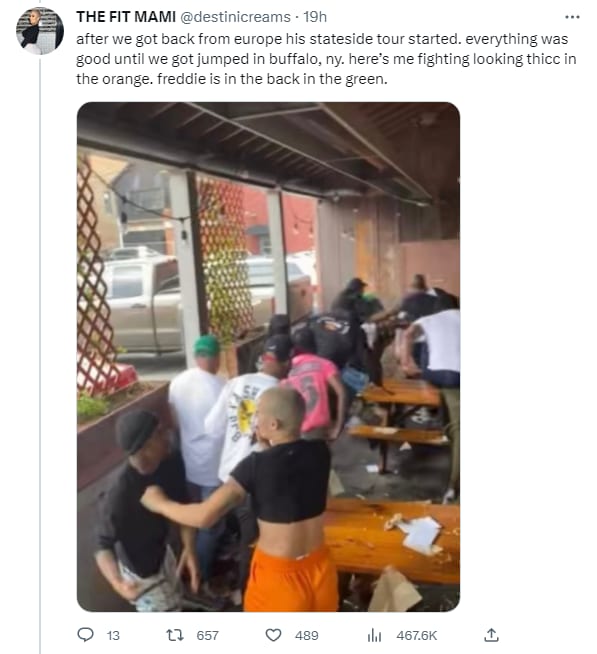 As she explained, they kept the relationship going despite the upset of the Buffalo incident. They even went to Hawaii for his 40th birthday in June last year, and his mother tagged along. By December, however, Destini found out that she was pregnant. She said that when he told her about this, "his tone immediately changed."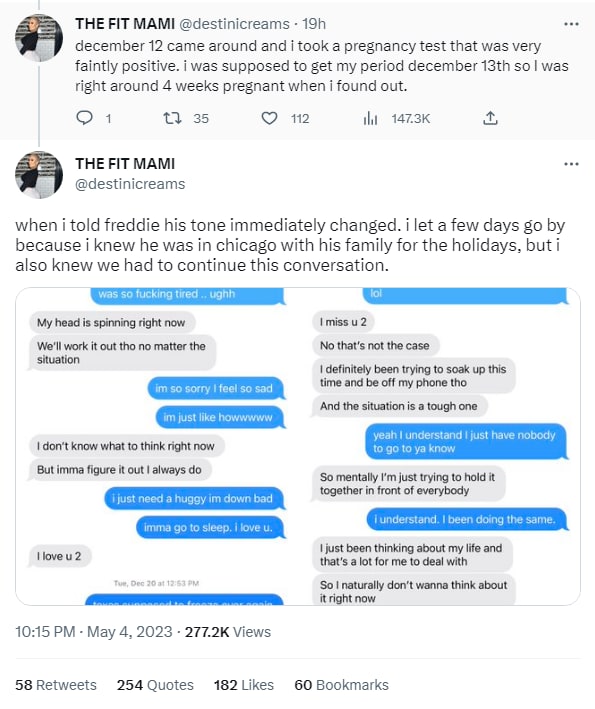 This prompted a confused reaction from her because they had spoken about having a child together prior to her finding out she was pregnant. "Shortly after this we had to go to Australia and I could tell he was still avoiding the conversation," she wrote. "It was a 2 week tour but I decided to leave after 1 week. I needed to get home, find out how far along I was." When he got back home, he told her that he "wasn't ready for a child."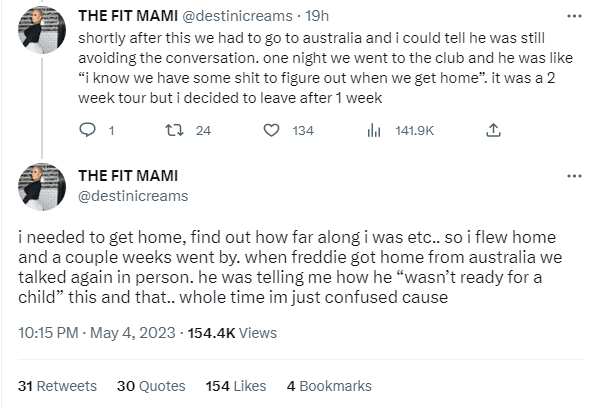 She believed she was nine weeks pregnant when she asked if he wanted her to get an abortion, which she told him would be the end of their relationship, too. "He cried. I cried. That was the end of that," she wrote. "I went to the abortion clinic thinking I was about 9 weeks pregnant. I get there and the doctor lets me know I'm closer to 12 weeks, and I saw our little baby moving around and I knew that I couldn't go through with it. After we broke up I turned his phone off, because I was paying his phone bill."
After that, he "never checked" in with her about her visit to the abortion clinic, and didn't even call her to check if she went through with it. "I just simply never heard from him again," she continued. "I've reached out to him, his manager, his assistant, and no one will respond. I feel like I've done my part, kept it real, and this is the thanks I get. Noted. I no longer want a response, no bad blood. I'm going to be just fine. But I had to speak my truth."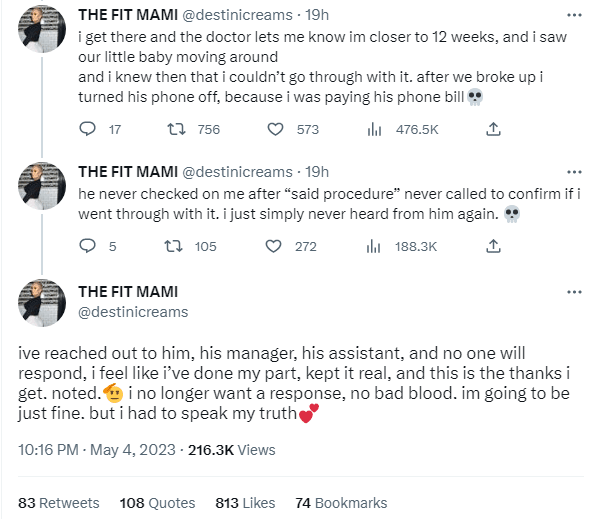 Gibbs responded to the Twitter thread, saying he doesn't have a phone.
He's been in a similar situation before when his ex-girlfriend Raven Tatum claimed he took a restraining order against her following their separation. "[I'm] over here chilling raising our son and i wake up to my govt name being called out on your album," she wrote on Twitter last year. "[U] got a new BM and a new gf. talk about them hoes. leave me out of it. please."
Gibbs mentions his problems with Tatum on "Grandma's Stove" off $oul $old $eparately, rapping, "Rap deadbeat daddy, that's how thеy try to paint me/And that's a shame 'cause those that know me know I love my babies / Raven was a rat, she scratched the Benzy and I dropped the charges / That ho know she'd never had my heart, so she attacked my pockets."