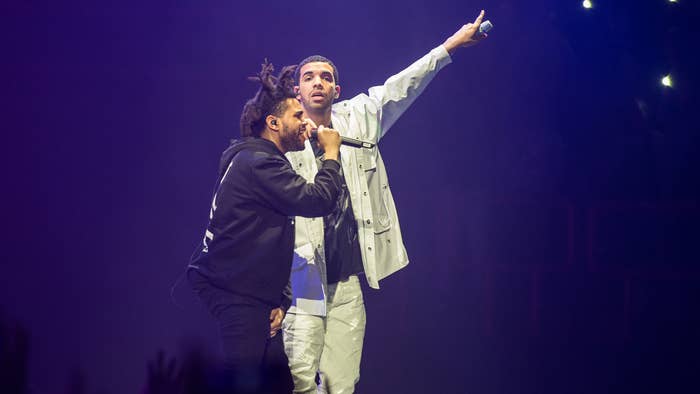 In a video shared on his Instagram Stories, Drake reflected on the first time he encountered the Weeknd's talents.
"This right here, this little driveway area right here, this the first place I ever heard the Weeknd's music, right here," said Drake in the video. "Shout out to Oliver [El-Khatib], of course my brother. Oliver played me the Weeknd right here. And it's my old building, in Toronto. We were parked out here, and it was raining. And that same guy selling out SkyDome tomorrow night."
The Weeknd's long-awaited After Hours Til Dawn Tour finally kicks off in Toronto on Friday at the Rogers Centre (formerly known, as Drake mentioned, as the SkyDome), which has a concert capacity of 55,000. "That man is selling out the SkyDome," Drizzy continued. "I just want anybody that's trying to do this shit to understand, like, I heard this man's music right here for the first time. Pouring rain. It's a great life."
Drake and the Weeknd first crossed paths somewhere between 2010 and 2011, with the OVO founder being one of the first major acts to champion the Dawn FM artist. Drake made a surprise appearance on the Weeknd's second mixtape, Thursday. Eventually the two collaborated on Drizzy's 2011 classic Take Care, perhaps most notably on "Crew Love." 
They haven't been close collaborators for quite some time, but it appears they're still on friendly terms and Drake's eager to show love to his fellow Ontarian. The Weeknd's 19-date North American tour kicks off in Toronto tonight, with guest acts including Mike Dean, Snoh Aalegra, and Kaytranada. Originally Doja Cat was set to support, but she dropped off the lineup in May over tonsil surgery.