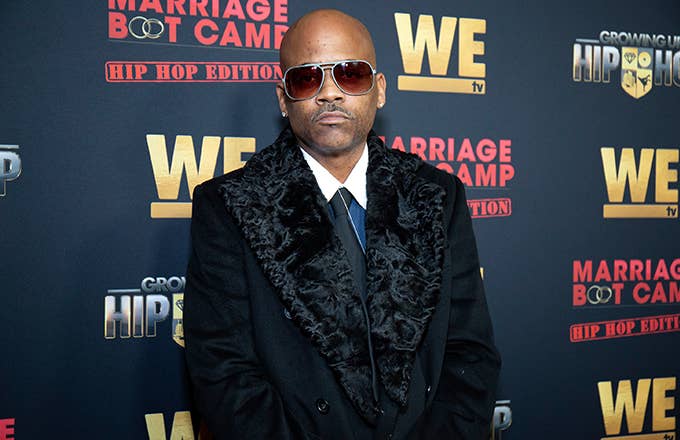 Dame Dash says that after R. Kelly and Aaliyah split, the late singer made it clear she wanted nothing to do with Kelly. Ahead of the premiere of Surviving R. Kelly Part II: The Reckoning, a clip has surfaced via TMZ of Dash talking about Kelly and Aaliyah's secret marriage when she was just 15. 
"Aaliyah was like the sacrificial lamb for all that, bro, because she didn't deserve none of that," Dash explained. "Good soul, good girl, and wasn't even really so resentful—like, 'Let that man live but keep him the fuck away from me.' That's all she wanted, she was just happy to be away."
Dash went on to say, "I know the whole story, I know it was the cover-up and all of that, but how does that cover it up? It just made the conversation less crazy, like oh he married a child."
Dash has previously spoken about R. Kelly and Aaliyah's alleged marriage, insisting it took place. Additionally, Kelly's former tour manager Demetrius Smith recently told TMZ he helped the couple get married and even got Aaliyah a fake ID the day before the wedding. The disgraced R. Kelly, who is still awaiting his sentencing in Chicago, has denied these claims in court.
"That was a headline, that was like, a rumor," Dash continued. "That was something talked about like it was normal. It wasn't like, 'Ew, disgusting, you married a 13-year-old.' It was like, 'Oh you married Aaliyah?' She's 13."
At that point, Dame was interrupted by the interviewer saying Aaliyah was 15 when she allegedly married R. Kelly. "Yeah, but the 15 is 13, man," he responded. "I don't have to be accurate because I don't care. 15, 13, anything under 18 is disgusting."
See the first episode of the Lifetime docuseries tonight, Jan. 2.