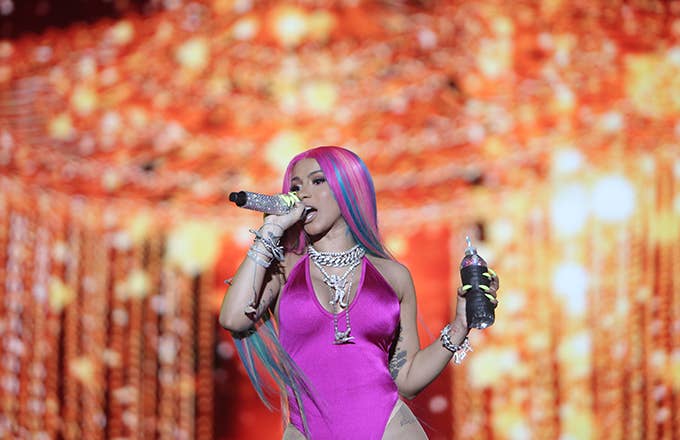 Cardi B frequently addresses her fans during Instagram Live sessions, thanking them for their support or taking the opportunity to tell them how she's doing in general. During a livestream on Thursday, she once again said how thankful she was to have so many dedicated fans but she also issued a warning. A number of fan pages dedicated to the "Money" rapper have been discussing the intricacies of her family life recently, and she isn't happy about it.
"I am so thankful that I have people that love me," she said during the stream. "I talk to a lot of fan pages." However, some of these pages have been talking "hella crazy" about her family, specifically her sister Hennessy Carolina. 
"No, you cannot talk about my sister," she continued. "I would go to jail for my sister, I would die for my sister, I would take a bullet for my sister. So nobody could talk about my sister. I could be best friends with somebody for 100 years. Once they say something slick about my sister, you're getting cut the fuck off, period."
While she didn't say what these fan pages were talking about, it's clear she wants to put an end to it. "Nobody can talk about my husband either," she said when the topic of Offset came up. "I understand that some fan pages and some people, they feel a certain type of way because of the drama that I have with Offset," she said. "However, that's my husband and that's my child's father. My daughter loves her dad. So I know she will fight for her dad." 
While she's open to criticism, she stressed that her family is off-limits. "Just delete your Instagram then, because I don't give a fuck," she quipped.