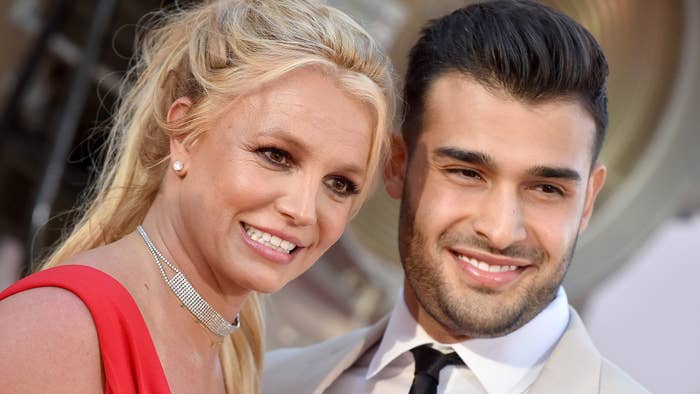 Britney Spears shared a video on Instagram of her kissing husband Sam Asghari amid speculation their marriage is in trouble.
Spears posted the clip, which is set to justin Bieber's "Honest" following a report from TMZ earlier this week that claimed their relationship is in "deep trouble." In the caption alongside the video, she wrote, "Ok so I'm proud of my flowers 🌹🌺🌸💐!!! I've been pretty modest about my home 🏡 !!! I'm redesigning my house !!! I feel so blessed to be with such an incredible husband who inspires me everyday 🥰 !!! Have a brilliant day my friends and godspeed ✨✨✨ !!!"
The video appears to be a not-so-subtle attempt to silence the rumors regarding her marriage.
In a subsequent post on her Instagram Stories, she shared a video of her hanging out with some of Asghari's friends. "First time hanging with one of my hubby's friends," she wrote. "My boys are at that awkward age where I haven't been able to shoot them for 4 years ... @samasghari is sort of silly about it too ... It was cool to make contact yesterday!!!"
The report regarding their marriage arrived as part of an unauthorized documentary from TMZ. According to sources, Spears allegedly got physical with Asghari during arguments, which often also involved yelling. While Spears hasn't directly responded, Asghari called the TMZ exposé "disgusting" in a post on his Instagram Stories, per Page Six.
"I found it absolutely disgusting for the people who were in her life when she didn't have a voice, they went and told her story like it was theirs," Asghari said in the video, which is no longer available. "All of a sudden—after 15 years when she's free after all those gaslighting, all those things that went down—now you're going to put her under a microscope and tell her story? ... No, no, that's also disgusting, so don't do that, and don't believe what you read online."