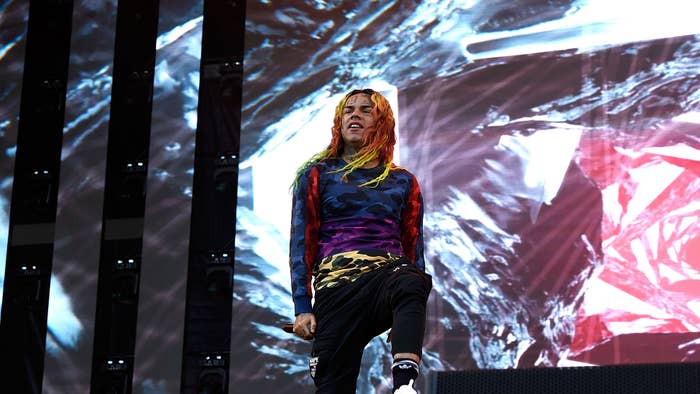 Controversial rapper Tekashi 6ix9ine has been released from prison early amid concerns over the coronavirus pandemic. 
His motion for compassionate release was granted on Thursday. 6ix9ine is on supervised release and serving the first four months on home incarceration, which will be enforced by GPS monitoring. Due to the coronavirus pandemic, he will have to stay at his residence unless he asks permission from the probation department to seek medical treatment or talk with his attorney.
An employee at Queens Detention Facility told the New York Daily Newsthat 6ix9ine left via a rear exit roughly 90 minutes prior to Judge Paul A. Engelmayer's ruling becoming public information.
"We're all so pleased with the judge's decision. Danny will be safe now," said his lawyer Dawn Florio.
Pvnch, the rapper's former tour DJ, said, "I'm speechless. But I'm just sitting here with a bowl of popcorn, waiting for the festivities."
6ix9ine was originally set to be released in August after he was sentenced to two years in prison, including time served, in December 2019. In legal documents filed by attorney Geoffrey S. Berman, it was said that the government "does not oppose the defendant's motion for compassionate release," citing "extraordinary and compelling reasons" raised by his health concerns.
6ix9ine and his legal team filed an application to serve the rest of his sentence at home on March 22. Prisoners who have been deemed at high risk of contacting COVID-19 have been released early, including one of the defendants in the same case 6ix9ine was involved with, Kintea "Kooda B" McKenzie. People with asthma are among those considered high risk, and 6ix9ine has notably had issues with his asthma in the past.
It is unclear if 6ix9ine has contracted the virus or not, but his attorney Lance Lazzaro recently told Complex that his client had experience "some shortness of breath" recently. "If he contracts the virus, he could die," Lazzaro added, although there is nothing that would indicate the artist has contracted it. 
Initially, Judge Engelmayer denied 6ix9ine's request to serve the rest of his sentence at home. "Had the Court known that sentencing Mr. Hernandez to serve the final four months of his term in a federal prison would have exposed him to a heightened health risk, the Court would have directed that these four months be served instead in home confinement," Engelmayer's order read. "The Court accordingly denies Mr. Hernandez's motion for relief."