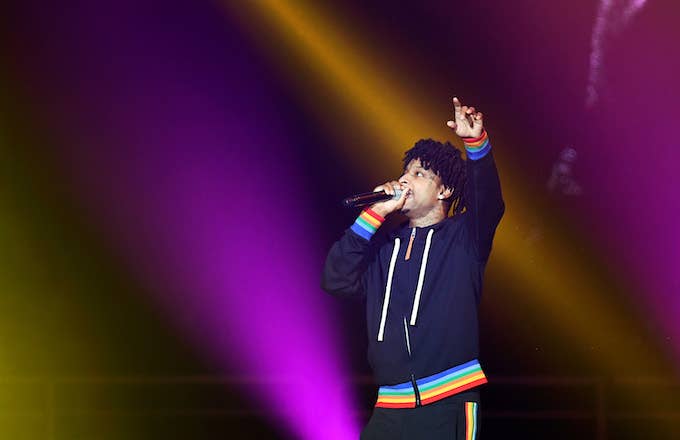 "U.S. Immigration and Customs Enforcement (ICE) arrested unlawfully present United Kingdom national Sha Yaa Bin Abraham-Joseph AKA '21 Savage' during a targeted operation with federal and local law enforcement partners early Sunday in metro Atlanta," Cox said of the arrest. "Mr. Abraham-Joseph was taken into ICE custody as he is unlawfully present in the U.S. and also a convicted felon."
However, attorney Jacoby Hudson—who worked with 21 on getting his 2014 conviction expunged—disputes Cox's latter claim. "He's not a convicted felon, so they reported that wrong, from their 2014 arrest," Hudson said. "That arrest should be expunged. He has no felony convictions."
The rapper wasn't arrested as part of a Super Bowl-related ICE operation. He reportedly was was in a car with another undisclosed artist, "who was subject of a local police bust."
According to Vice reporter Donovan Farley, that hip-hop artist was Young Nudy. 
21's attorney Dina LaPolt told TMZ, "We are working diligently to get Mr. Abraham-Joseph out of detention while we work with authorities to clear up any misunderstanding. Mr. Abraham-Joseph is a role model to the young people in the country--especially in Atlanta, Georgia and is actively working in the community leading programs to help underprivileged youths in financial literacy."
ICE claim that 21 entered the U.S. legally all the way back in July 2005, but he never left the country after his non-immigrant visa expired. "Mr. Abraham-Joseph is presently in ICE custody in Georgia and has been placed into removal proceedings before the federal immigration courts," they added.
ICE's spokesperson even called his public image into question. The 26-year-old has fiercely represented Atlanta throughout his career.
ICE has since denied calling out 21 Savage's Atlanta bona fides. 
An unnamed law enforcement source who spoke to CNN's Nick Valencia said unequivocally that 21 Savage is a British national. 
British tabloid the Daily Mail has published what it claims to be Savage's 1992 birth certificate, from the London Borough of Newham. Both his parents are listed as having been born in the city as well.
Kei Henderson, one of 21 Savage's managers, posted a disconcerting tweet at 11:15 a.m. on Sunday before word of his arrest was made public.
Though 21 Savage's supposed British connection comes as a shock to many, a few tweets in the past have pointed it out.
@21savage

bruh you lived in fall creek in snellville georgia n you from London .. you right cuh stop tweeting
The fact 21 savage grew up in London but acts like he never is mad weird man
Complex has reached out for comment.