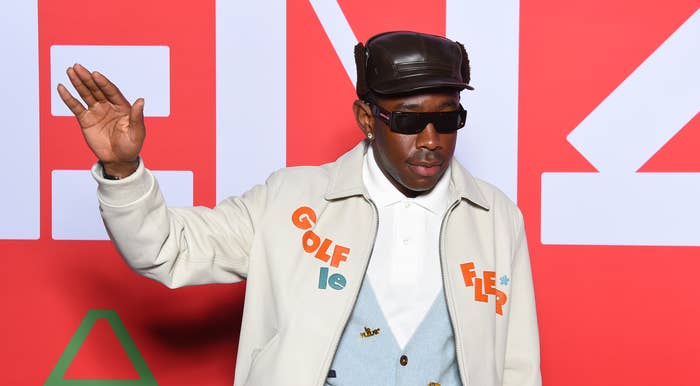 Tyler, The Creator is now a two-time Grammy champ.
On Sunday night, the rapper took home his second award for Best Rap Album, this time earning the trophy for his 2021 effort Call Me If You Get Lost. He previously took home the same award for IGOR in 2020. 
"Thanks wow yeah," Tyler tweeted after the win. "Thanks to everyone who listened, watched a video or came to a show."
But no online victory speech would be complete without a "GANGSTA GRILLZ!!!" drop, which he also tweeted.
Kanye West also scooped two awards at the 64th Annual Grammy Awards, one for Best Melodic Rap Performance for "Hurricane," and the other for Best Rap Song for "Jail." This means Jay-Z, Lil Baby, and The Weeknd have all picked up another trophy.
So far into the night, Ye has become a 24-time Grammy winner, and still has two more chances at getting an award in the Album of the Year category—both for Donda and Lil Nas X's Montero, thanks to his production credit on "Industry Baby." 
Back in 2020, after earning the award for IGOR, Tyler spoke about how his arguably most pop-leaning effort was still placed in a Rap category.
"I'm half-and-half on it," Tyler said. "On one side I'm just grateful that what I made could be acknowledged in a world like this. But also it sucks that whenever we—and I mean guys that look like me—do anything that's genre-bending or anything they always put it in a Rap or Urban category."
Of course, with its DJ Drama involvement and quite a bit more rapping than his last effort, Tyler's Call Me If You Get Lost found itself in the right genre category this year. Drama caught up with Wayno, Gia Peppers, and Rob Markman as a part of Rotation's livestream of the 2022 Dreamville Festival to celebrate the win. 
"Salute to Tyler, the Creator, he's a genius, man," he said. "To get that phone call, to be a part of history, part of that album. For him to speak so highly of me and what Gangsta Grillz meant to him, it's a full-circle moment… Before you just told me that I was sitting here talking about being on stage with Young Jeezy, how these records that I was a part of and brought to the people 20 years ago resonate and impact in front of 25,000 still to this day. It's very humbling for me. When you're making history, you don't even realize you're doing it."
Still, time will tell if Ye—who is still up for trophies—ends up taking any more tonight, or what music fans will see from the pop and general categories. Check out Complex's still-updating list of winners here before the awards kick off shortly.