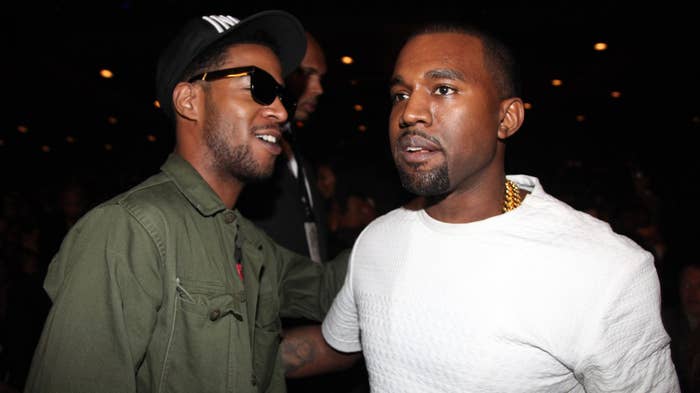 "Just so everyone knows Cudi will not be on Donda because he's friends with you know who," Ye wrote. "We all speak in Billie language now."
While Ye did not clarify who he was referring to in his statement, he did tag Kim Kardashian in the post, with some pointing fingers to Cudi's friendship with Kim's new boyfriend Pete Davidson. The comedian has spoken highly of Cudi in the past, and had previously had dinner with both Cudi and Ye. 
Cudi has since seemingly responded to Ye's Instagram statement with a few tweets of his own, writing that the duo talked "about this" weeks back.
"You're whack for flipping the script and posting this lie just for a look on the internet," Cudi shared. "You ain't no friend. BYE."
In a few additional posts, the musician quote-tweeted another user who wrote that it's "not worth losing a friendship over" and that Ye is "annoying af anyways," to which Cudi wrote "very." He also shared that he's "too blessed" with an emoji to match the feeling. And in an Instagram comment that's been shared by several update accounts, he elaborated on his feelings about Ye.
"Too bad I dont wanna be on ur album u fuckin dinosaur hahaha," Cudi wrote. "Everyone knows I've been the best thing about ur [albums] since I met u. Ima pray for u brother."
It's still not totally clear what Ye means by "Billie language," but he could be referencing his ask for pop star Billie Eilish to "apologize" to Travis Scott regarding comments she made about fan safety at a recent show in Atlanta. As a fan was having trouble breathing, Eilish said "I wait for people to be OK until I keep going," which was interpreted by an Instagram page as "Billie Eilish Dissed Travis Scott" and eventually reposted by Ye. 
"Come on Billie we love you. Please apologize to Trav and to the families of the people who lost their lives no one intended this to happen," Ye wrote, in reference to the Astroworld tragedy that resulted in 10 deaths. "Trav didn't have any idea of what was happening when he was on stage and was very hurt by what happened and yes Trav will be with me at Coachella but now I need Billie to apologize before I perform." 
Later in the evening, Ye posted the album artwork to Kids See Ghosts, the collaborative project with he and Cudi. "I JUST WANTED MY FRIEND TO HAVE MY BACK THE KNIFE JUST GOES IN DEEPER," he wrote in the caption.
He then posted a meme parodying the Captain America: Civil War movie poster. Future, Drake, Julia Fox, and Travis Scott are on one side. Taylor Swift, Billie Eilish, Kid Cudi, Kim Kardashian, and Pete Davidson are on the other side.