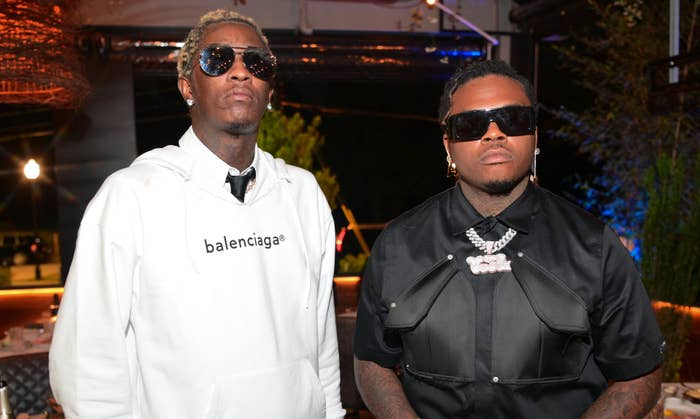 Fulton County District Attorney Fani T. Willis has addressed the 56-count indictment charging members of YSL, including Young Thug and Gunna, which was announced on Monday. 
As previously reported, Thug specifically has been charged with conspiracy to violate the Racketeer Influenced and Corrupt Organizations Act (RICO) and participation in criminal street gang activity, while Gunna has been charged with one count of conspiring to violate RICO. Others are being charged in the indictment with attempted murder, theft, and more. 
Without naming anyone specifically, Willis said some of the charges brought up in the indictment could see "many" facing life in prison. 
"We'll ask on the different charges for the maximum penalties, and there's obviously many people that are looking at life under this indictment," she said. "You're absolutely right. These are serious crimes, they're serious allegations, and it is my opinion that violence in our community deserves maximum penalties."
Willis spoke on song lyrics being mentioned in the indictment, and if that would lead to any issues involving the First Amendment. She said that while she believes in free speech, it won't stop lyrics from being used as evidence here. Lyrics being used in trials has been a topic of discussion for some time now, as earlier this year, Jay-Z, Big Sean, Meek Mill, Fat Joe, and more backed a proposed bill named "Rap Music on Trial" (S.7527/A.8681), calling for prosecutors to stop using hip-hop artists' bars in the state of New York while attempting to prove guilt at criminal trials. 
"It's one of our most precious rights. However, the First Amendment not protect people from prosecutors using it as evidence if it is such," District Attorney Willis said.
Also during Tuesday's press conference, the DA was asked about the safety of those involved in the charges if they go to jail, with a reporter mentioning YFN Lucci. Willis shared that she wouldn't want to "step outside of my lane" since she is not the sheriff, in whom she has "great confidence."
"I believe that he is well prepared but you'd have to speak with him to make sure that everyone that's in his facility is safe," Willis said. 
Willis also touched on Jack Harlow during the indictment, as a reporter told her the Louisville rapper was "one name I was expecting to see," likely after misinterpreting a string of Twitter jokes about Harlow. The DA responded, saying that "28 defendants" were indicted for the crimes she deemed "appropriate for this RICO indictment." 
Watch the full press conference here. For a breakdown on everything you need to know about the RICO indictment, go here.