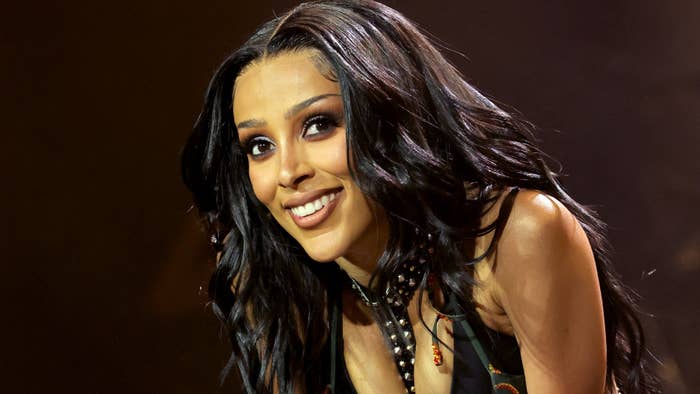 Doja Cat's Twitter feed over the last few months, outside of being responsible for the words "mike penis" on our feeds every other day, has led fans to believe that she's been working on something special with Taco Bell.
On Sunday night, her hard work paid off when she announced the return of Taco Bell's Mexican pizza in the middle of her high-energy Coachella performance. The set included unidentifiable creatures, unreleased songs, and newly unveiled dance breaks, but the culinary surprise was certainly up there as one of the night's biggest moments. 
"I brought back the Mexican pizza by the way," Doja said during an instrumental break, before letting out a somewhat sinister laugh on stage.
According to a pres release, Doja—who is being championed as "the voice of the Taco Bell people"—has helped the menu item return to stores on May 19 for the first time since 2020. Krish Jagirdar, who started a petition for the pizza's comeback, now claims Taco Bell was "listening to fans" when it came to the demands. 
"Like many Indian-Americans who grew up vegetarian, we had limited access to the 'fun' fast food, so Taco Bell became a bridge to belonging in American culture for many kids like me who grew up in immigrant households," said the organizer of the Change.org petition that garnered 171,735 signatures. "That's what made it especially devastating when the Mexican Pizza was pulled from menus in 2020, but fast forward two years later and I found myself on a conference call with the Taco Bell team as they shared news of the return of the Mexican Pizza, showing that listening to their fans is clearly embedded in their DNA. It's one of the many reasons Taco Bell is more than just another fast-food restaurant."
Taco Bell CEO Mark King added that the item, introduced in 1985 under another name, has a "long history with the brand" and that he's "glad we could give fans what they crave and bring our classic Mexican Pizza back home where it belongs."
Previously, Doja's TikTok Mexican pizza jingle did some numbers, but she's since claimed the song was "contractual," and that she tried to make it "terrible on purpose."