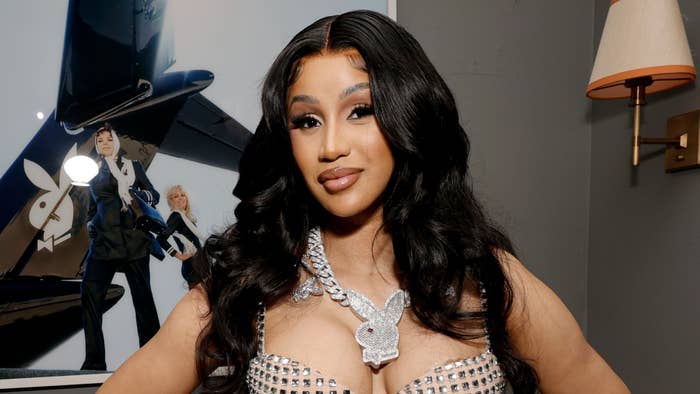 UPDATED 1/26, 10:00 p.m. ET: Tasha K released a video on Wednesday​​​​​​​ in which she addressed losing the libel case filed against her by Cardi B and called the verdict "extremely prejudicial." The YouTuber also pledged to fight the court's decision "no matter the cost or length, even if this takes years."
See original​​​​​​​ story below.
Cardi B's legal victory against Tasha K initially required the blogger to pay $1.25 million, but now Cardi is expected to bring in an additional $3 million as a result of the libel case, Billboard reports. 
On Tuesday, the jury in the case decided Tasha—real name Latasha Kebe—should pay an additional $1.5 million in punitive damages to Cardi, as well as paying off the rapper's $1.3 million in legal fees. This comes after the jury decided Monday that Cardi was right in taking the blogger to court over her "malicious campaign," which included claims that Cardi had STIs and "fucked" beer bottles. Cardi initially sued Kebe back in 2019 over several videos that made claims about Cardi being involved in prostitution, doing hard drugs, and cheating on her husband.
In total, that comes to $4.05 million awarded to Cardi.
In a video shared by TMZ, Cardi thanked the jury in the case for siding with her, and her legal team for working with her on it for three years. She also extended her gratitude to the media members present for "keeping me strong."
"We all saw the videos," Cardi said. "You know how hurtful things were… This was very hard for me. It put me into a lot of emotional distress. These past couple of years have been difficult for me, and constantly reliving it has been very hard for me."
The trial started on Jan. 10 in Georgia, where Cardi revealed she felt "suicidal" following the claims, and the jury eventually found Kebe—who at one point admitted she posted lies about Cardi before backtracking—liable for defamation, invasion of privacy through portrayal in a false light, and intentional infliction of emotional distress. Kebe's legal team now has the ability to appeal the verdict to a federal appeals court as long as the verdict is upheld by the judge.