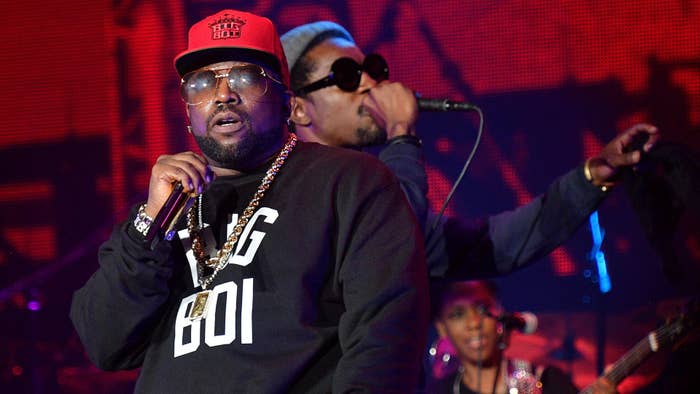 While André 3000 wasn't thrilled that his verse on Kanye West's "Life of the Party" became a part of the ongoing saga between Kanye and Drake, his longtime collaborators are still giving him his flowers. 
The verse, which 3 Stacks uses to speak about his parents via Yeezy's late mother Donda West, left people both moved and impressed this weekend, with his OutKast partner Big Boi among them. 
"Atta Boy," Big Boi wrote in an Instagram caption, underneath a clip he shared of 3000's emotional verse. "#JediRapShit 'O.'"
Both Scarface and T.I. also commended 3 Stacks for his bars, with Scarface commenting "Wow 3k. Wait a minute….. daaaaaaaamn!!!!!!!!!!!!" and T.I. sharing "ATLiens" alongside a crown emoji. 
André's verse, of course, wasn't supposed to see the light of day, the rap icon and actor later revealed in a statement. The song only made waves online after Drake, who Kanye dissed several times during his own verse, decided to leak it while hosting a guest mix on SiriusXM's Sound 42, prompting 3 Stacks to express his disappointment in how the whole thing played out. 
"The track I received and wrote to didn't have the diss verse on it and we were hoping to make a more focused offering for the Donda album but I guess things happen like they are supposed to," the rapper shared. "It's unfortunate that it was released in this way and two artists that I love are going back and forth."
Even without "Life of the Party," Kanye's latest effort Donda was able to reach No. 1 on the Billboard 200, with 309,000 equivalent album units, making it Yeezy's 10th album to hit the top of the chart.