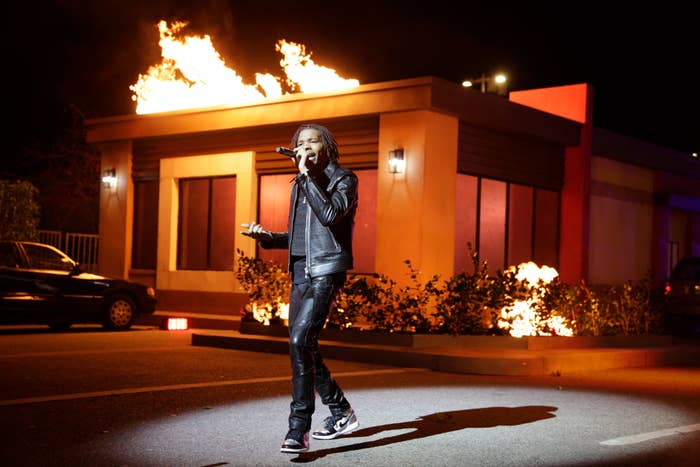 Lil Baby's Grammy night rendition of "The Bigger Picture" is the most talked about performance from Sunday night's show. But the response to his Killer Mike and Tamika Mallory-featured protest performance isn't all positive. 
There were many viewers who thought the performance, which depicted the Wendy's restaurant where Rayshard Brooks was killed by police, as well as a demonstration which mirrored still-ongoing anti police actions, was a powerful way to raise awareness about police brutality. But Samaria Rice, the mother of the late Tamir Rice, spoke for many others when she exclaimed "FUCK A GRAMMY WHEN MY SON IS DEAD," giving a thumbs down to Tamika Mallory and the performance as a whole. 
Those agreeing with Rice thought the protest-depicting backdrop was exploitative to social justice movements, and some viewers were disturbed by the scene depicting a police shooting. Black people are inundated with videos and images of their death every day. There were some who didn't want to see that during a music awards show. 
Lil Baby, Mike, Mallory, and everyone else involved likely had good intentions. But was their performance more provocative or trauma-triggering? Is it ever a good idea to put on performances that depict police brutality, jail, and other facets of Black oppression, especially on the stages of white institutions? There's the chance that these displays enlighten some viewers to the gravity of American oppression, but there is also the reality that they come off as pandering and upset people directly impacted by state violence.
Complex Music staff writers Jessica Mckinney and Andre Gee discussed the value, or harm, of these performances.
Andre: There are tactful, subtle ways to make a political statement. I think these performances err by going over the top from the gate. We don't need the set to resemble a prison, or the scene of a police shooting. Artists don't need to be dressed in orange jumpsuits or be standing next to faux protesters. It rubs me the wrong way when the next artist's stage set is an  elaborate design with fireworks; it becomes too hard to distinguish what's for show and what's genuine. Were they real protesters behind Tamika Mallory or actors who answered a casting call? It all gives off sitcom "a very special episode" vibes. 
Black death is already fodder enough for American empire for us to be so overtly dramatizing it onstage, especially with no real call to action. Police shootings keep happening, these performers keep decrying it (and even recreating it), and we now have a state where Black people can't escape images of our demise; there's psychological harm to that, especially for those directly impacted by police violence. 
The people who devise these performances have to trust their audience. You don't have to drown us with it. The most memorable, confusion-free political statements are the subtle ones. 
There's Andre 3000's "Across cultures darker people suffer most" shirt, or the way Busta succinctly condemned the "Agent Orange administration" at the end of Tribe's 2017 Grammy performance, or even a simple "Free ____" shirt. Lil Baby could have made a more lasting impact with less confusion with an intimate performance wearing a "Free Mumia" shirt or one demanding something specific of Biden. Artists can best augment social justice movements with galvanizing symbols (and donations), not by dramatizing the plight.

Jessica: There is no one way to explore Black trauma experiences on a commercial stage. Depicting something like police brutality or mass incarceration on a stage like the Grammys or other major awards shows is tricky. While artists may feel the responsibility to reflect what is happening in the world right now, especially as it pertains to their own cultural and social experiences, turning Black death into a piece of theater or "art" is often traumatic for viewers and unnecessary. Is it possible to make a statement on important social issues without incorporating choreographed routines or a fictional standoff between police officers and protesters? Yes. There's a thin line between creating a powerful moment and making light of real-life experiences for marginalized communities. And the key to a successful performance may be as simple as swapping out a skit for a simple background display. But it's difficult to determine when you've gone too far, which begs the question: Should it even be done in the first place? 
Andre: It's very hard not to understand what these performances are seeking to convey: racism is bad. That much we know, but the thing is, I don't know how many people they reach who don't already know that. 
As I said before, a stronger message for these performances comes with an actual call to political action or a succinct statement for people to take away. That way, you can be sure that the performance wasn't solely self-serving, and someone was helped from it. 
Revered revolutionary Mumia Abu-Jamal is currently in serious condition after catching COVID in prison, and many activists are fighting for his compassionate release. A major artist drawing attention to his plight on that stage would have been a catalyst for more people to read about him and other political prisoners, possibly contributing to tangible change.
Jessica: I think the message is being conveyed to some degree. There's no way someone can watch a performance of a police officer violently beating a Black person at a traffic stop and not understand that it is a comment on police brutality and the countless Black people who have lost their lives at the hands of police. With that being said, the message can be lost when creative direction overshadows everything else. Lil Baby's Grammys performance, for example, had some great elements, but some of the message was eclipsed by background dancers pop-locking in front of a photo lineup. Even moments that are more realistic can hurt an artist's message. During Lil Baby's performance, actor Kendrick Sampson's character was fatally shot by police while resisting arrest at a traffic stop. In 2020, we saw dozens of images similar to this, but in this case, the message becomes a bit more unclear. What might have been intended to highlight injustices in America, now becomes an unnecessary reminder of what many people are already living through. So, what becomes the message? If we needed that type of trauma, we could simply turn on the news. 
Andre: The artists get cheap woke points from liberals, as do the institutions. Also, any involved activists gain a higher profile from their proximity to celebrity. Given that they're so often white institutions comprised of people who may not be doing much to uproot the conditions sustaining the oppression (but are surely financially benefiting from it), it's an uneasy dynamic. I can't help but cringe thinking at the prospect of advertisers paying more money to be before one of these performances because they know it will be highly viewed. The connection between Black death and financial profit is too hard to ignore. 
If these performances were paired with calls to action or some other form of radical praxis, then the movement could benefit from the heightened awareness. But they often don't, and it ends up looking like mere co-opting of revolution. Yesterday Tamir Rice's mother spoke to the pain of the aggrieved who don't feel like such displays do much for their family but help others capitalize and build platforms off of their death.
Jessica: The only people who are supposed to benefit from these performances are people who represent the majority. I think it's generally supposed to be a teaching moment or an attempt at waking them up to the experiences of marginalized communities. While it's meant for them, I don't think anyone truly benefits from seeing a fake killing or protest on TV. If it's a good performance, it will likely stimulate audiences and cause a strong reaction. The great performances can even start a conversation. But a great conversation among like minded individuals changes nothing. And even the best shows will make a critic or fan donate to a cause or develop a strong desire to fight racism in real-time. So, what is actually gained from these performances?
Andre: I think biases and fandom definitely influence the reception to a performance. For instance, I think someone could legitimately note the incongruity of Malcolm X's quote and "protect Black women" while Megan performed "Savage." But that person could easily be susceptible to getting "dragged" as a hater or unempathetic, so they stay silent. 
I also think artists who are already seen as "conscious" or palatable to audiences tend to get the benefit of the doubt when people are on the fence about a performance. I think people would be celebrating the Grammy performance and arguing even more intensely for it if it was Kendrick Lamar or J. Cole or even Jay-Z, because it fits into the mythos their fans have concocted that they're the conscience of hip-hop. It gives fans the chance to extol their fave's "wokeness," which is completely beside the point of what these kinds of statements should be about.

Jessica: Yes. Artists who have a reputation for being activists or making conscious music will always have the upper hand in these cases. Kendrick Lamar and J. Cole are perfect examples of this. At the 2016 Grammys, Kendrick Lamar performed "Alright" and "The Blacker the Berry" in shackles and a prison jumpsuit, while other background actors danced in prison cells. At the end of his performance, the word Compton was displayed over an image of Africa. Kendrick's performance included many of the attributes that people viewed negatively in Lil Baby's performance five years later, including choreography and traumatic imagery. Even so, Kendrick was lauded by the masses as provocative and powerful. Similarly, J. Cole performed the entirety of his 4 Your Eyez Only Tour in an orange jumpsuit. He also entered the stage in shackles while being handled by police officers. The performance was a comment on the mental and physical imprisonment of Black men in America, and like Kendrick's show, Cole was praised. To be fair, there were many people who loved Lil Baby's Grammy's performance. But Lil Baby isn't what we'd consider a conscious rapper. I think that simple distinction played a big role in why Kendrick and Cole received critical acclaim, while Lil Baby's performanced struck a debate. 
Andre: I think that some artists have genuine intention to memorialize the fallen or highlight their plight, but younger ones don't realize that it's best to do it in a more productive, tangible manner. We all have to acknowledge that we're navigating this shit the best way we know how, and there's a lot of undue pressure on young artists to be activists and spokespeople for the Black community in a way that most aren't equipped to carry. If there wasn't such a societal pressure for artists to be making these statements in their art, many of them wouldn't exist to be groaned at.
When it comes to Sunday's performance, I didn't love the execution, but I think Lil Baby is a 26-year-old still navigating who he wants to be as an artist. He might not yet understand the insensitivity of the shooting scene, and may not have had a meticulous Kanye or Travis Scott-like control over the performance. He expresses his own confusion in "The Bigger Picture:" "I can't lie like I don't rap about killing and dope, but I'm telling my youngins to vote / I did what I did 'cause I didn't have no choice or no hope, I was forced to just jump in and go."
A good performance augmenting a song about flossing might incorporate an over the top materialistic spectacle. So from the perspective of an artist not hyper aware of triggering audiences, a good performance for a song about police brutality should contain everything Lil Baby's did. That's a flawed perspective, but who's gonna tell him that?
I give younger artists the benefit of the doubt when it comes to poor execution. And more importantly, I don't expect artists to know how to properly speak for the people, because in so many ways they're removed from social justice movements and don't understand tone as much as their urge to be jarring and push things to the limit. Most often, the blame lies with the people around the artists who helped choreograph and ultimately greenlight these ideas.
Jessica: We should never overlook an artist's intention. For the most part, I think artists who choose to depict social injustices on screen are moving with the best intentions. I don't think they're looking to re-traumatize Black audiences or make light of horrific events. Even so, it's necessary to hold artists accountable when they miss the mark. If the point is to create a moment that will charge up conversations and action, then there has to be open dialogue and understanding on what works and what doesn't.