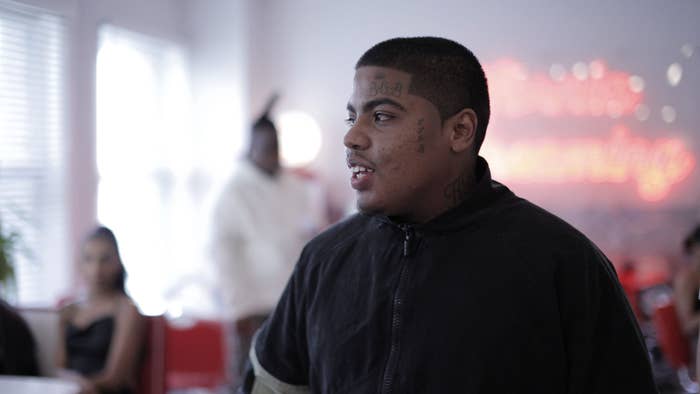 Last month, Drake took to his Instagram Stories to share a video of himself in the gym with a few friends. Among them was Toronto rapper Smiley, whom The Boy spent a few extra seconds gassing up.
"You can't even call this guy Bob no more, this is Bobby Valentino right there, you know what I'm saying?" Drake said, zooming his phone camera in on Smiley perched on a weight bench. "Young Bobby Valentino in the cut. Slim Smiley, we're here getting the work in."
It was all in good fun, but never underestimate the power of a Drake shout-out. 
"Honestly, people are sending me beat packs and now it says, 'For Bobby V.' [Laughs.] Like, what the fuck?" Smiley tells Complex. "And now I'm getting bare comments on my posts saying, 'Slim Smiley.'"
Perhaps the rebrand is fitting. After all, in recent months, Smiley's undergone something of a glo-up. The 24-year-old has moved to L.A., hired a personal trainer, and lost weight. He's cut out the booze and the weed and has gone vegetarian. Instead of posting up in the trap, he's posting #MOTIVATIONMONDAY videos on the 'gram. And he's hellbent on taking his career to the next level.
Hailing from Toronto's Pelham Park neighbourhood, Smiley's been bubbling up as one of the city's most unique voices for a minute. He caught ears with his 2018 debut album Buy. or. Bye, using a hushed, slow-motion flow to tell menacing tales about his drug-distributing lifestyle. Drake gave him a big signal boost when he broke his silence over Pusha-T's "The Story of Adidon" by posting lyrics from Smiley's "Free Baby" ("Nobody really know what I been through") on Instagram. Since then, Drizzy's continued showing him love, listing him as an influence on 2018's Scorpion and shouting him out as one of his favourite artists from the city in interviews. (The two even appear on a track together, which leaked last year and doesn't require the most extensive web sleuthing to find.)

But Smiley isn't letting the increased attention go to waste. Since signing with Warner and dropping his YYZ-LAX mixtape last year, he's been putting in the work—and the reps—in the lead-up to Buy. or. Bye 2, the sequel to his breakout album. After adding a hypnotic feature to fellow Torontonian Road Runner's "Spinladen" last month, Smiley recently returned with "In My Zone," which finds him on an inspirational tip, with confident bars about staying focused and a music video that sees him go full fitness coach. He promises his next project, due later this summer, will pump you up. "I'm just in a new place in my life now, a better place," he says."And the music, I've been making it for a while. It's going to sound like that new wave. That new Smiles, that fit Smiles, that Buy. or. Bye Smiles."
Complex hopped on a Zoom call with Smiley to chat about his transformation, his relationship with Drake, and his next moves. The interview, edited and condensed for clarity, is below.
I've been seeing your posts on Instagram lately, man. Looks like you've been living it up in L.A. You've got a whole fitness plan and everything!
I'm just trying to chase my dream and get in shape, brother! I just messed it up by going on vacation for like four days. I was actually about to go work out right now, but I'm just going to go do this interview quick and then go running. My trainer's mad at me right now. He wanted me to work out in the Bahamas, but I didn't work out. [Laughs.]
When did this new health kick start? And what made you want to make this change? 
Honestly, it started before I came to L.A. So probably last year, right before November. I just said it's time to fucking change it up, man. I have to start getting in shape…. I just knew I was gonna be in front of cameras a lot, and I don't like the way I was looking in videos. I want to be a performer, you know? A good performer. I don't want to be just a laid-back fucking performer. There's just a lot of benefits to me being fit. So, yeah, I just wanted to change for the better, you know? I feel like it's gonna help me elevate too. So, I'm all in, brother.
So what's this health kick been looking like for you? What's your day-to-day? 
So now, once I wake up, I just drink my green tea, then I go for a jog, and I skip for probably ten, 15 minutes, and then I eat my breakfast. And after that, my trainer comes and we just do some intense training, you know? Some crazy stuff. Then I'll eat lunch and I'll write music. Later on, I have my dinner and I do my last workout at nighttime. So that's the plan. Just the other day I was running up this big-ass hill. Oh, my gosh, I was so done. But I did it because it was the day right before my trip, so I'm like, "I have to go crazy right now [running motion] because I'm about to gain bare weight!"
What was your daily routine like, say, two years ago?
Two years ago, I'd either be in studio or just bullshitting. I'd be trapping and stuff, and once you're trapping, you don't really have time for other things, you know? You always just want to be on the road dealing with your wops and stuff. So I never had any time for nothing else. I'm eating bullshit, fast food, you know, and I'm drinking, smoking. Just bare bullshit. [Laughs.] Now, I look at that and I'm like, what was I thinking, you know?
Seems like you're committed now. You're even on your personal trainer flex in your new video! What does being "In My Zone" mean to you?
To me, if I'm in my zone, it's like, I'm totally focused. Nothing can stop me and I'm just reaching for one thing and I'm not going to stop until I reach it. So that's me in my zone, you know? And when I say, "She wanna be known, I wanna be in my zone," it's like, these girls, they want different shit, they just want the clout and that type of stuff. They just wanna be out there. But me, nah, I wanna be in my fucking zone. [Laughs.] Even with the gym stuff, that's me being in my zone too. That's me actually dedicating myself. I can't be drinking, I can't be smoking, I have to eat healthier. I'm putting myself in a zone where I just have to complete this shit. 
"That was the first time I'd ever seen that Drake knew who I was or anything; one of his boys posted my song, and he commented under it and said, 'Smiley = G.O.A.T.'"
Well, it looks like Drake's been helping you stay in your zone too. I saw you working out with him in his IG stories the other day. What's the story there?
[Laughs.] Honestly, when he was over here [in L.A.], we just hit each other up, and he told me to pull up on him. We were honestly supposed to play ping-pong. We were supposed to have a ping-pong match. [Laughs.] And he was saying he's sick at it, but I never knew how good he actually was at it until he started telling me, "Look at my videos on YouTube playing it." I was like, "Yeah OK." So then he set up a date and I'm waiting for the match, and then I'm just like, you know, let me just see how this guy plays, because I'm actually sick at it too, you know? But I'm like, lemme see. So I see the video highlights, and I was like, Oh, this guy's fucking good. He plays like a Chinese guy! He's doing the spikes and everything. Holy fuck![Laughs.] But whatever, he ended up saying he's coming out here. So he came out and we just went to a gym and it was good vibes and stuff.
So wait, did you wind up playing him at ping-pong?
Nah, we didn't end up playing the ping-pong match. He's scared of it. He's dodging the smoke. [Laughs.]
Wow, he's not ready! OK. What was it like working out with Drake? Did he give you any fitness tips? 
Like, he'll tell me, "Lifting weights will help you too." Because I was telling him I just do a lot of cardio. And he's just like, "Lifting weights will do a lot too." You know, like, cardio will make you lose weight but once you lift weights it'll really cut your fucking shit. People will be like, What the fuck?
But yeah, OVO Roxx was training the whole room [that day]. There were like five exercises to do and we were all just circulating through them. The workout we did that day, I never [tried that]. I never had a trainer before. The day after that, I got a personal trainer. I was already tired because I did a workout that same day, like right before I came, and then when I got there I was like, Fuck, I still have to go hard. So then Roxx is doing all this stuff, and I'm like, Hoooooly, these are things I don't do! So now I'm feeling it even more, you know? I'm like, "Hooooly fuck, Roxx! You're killing me, man!" [Laughs.]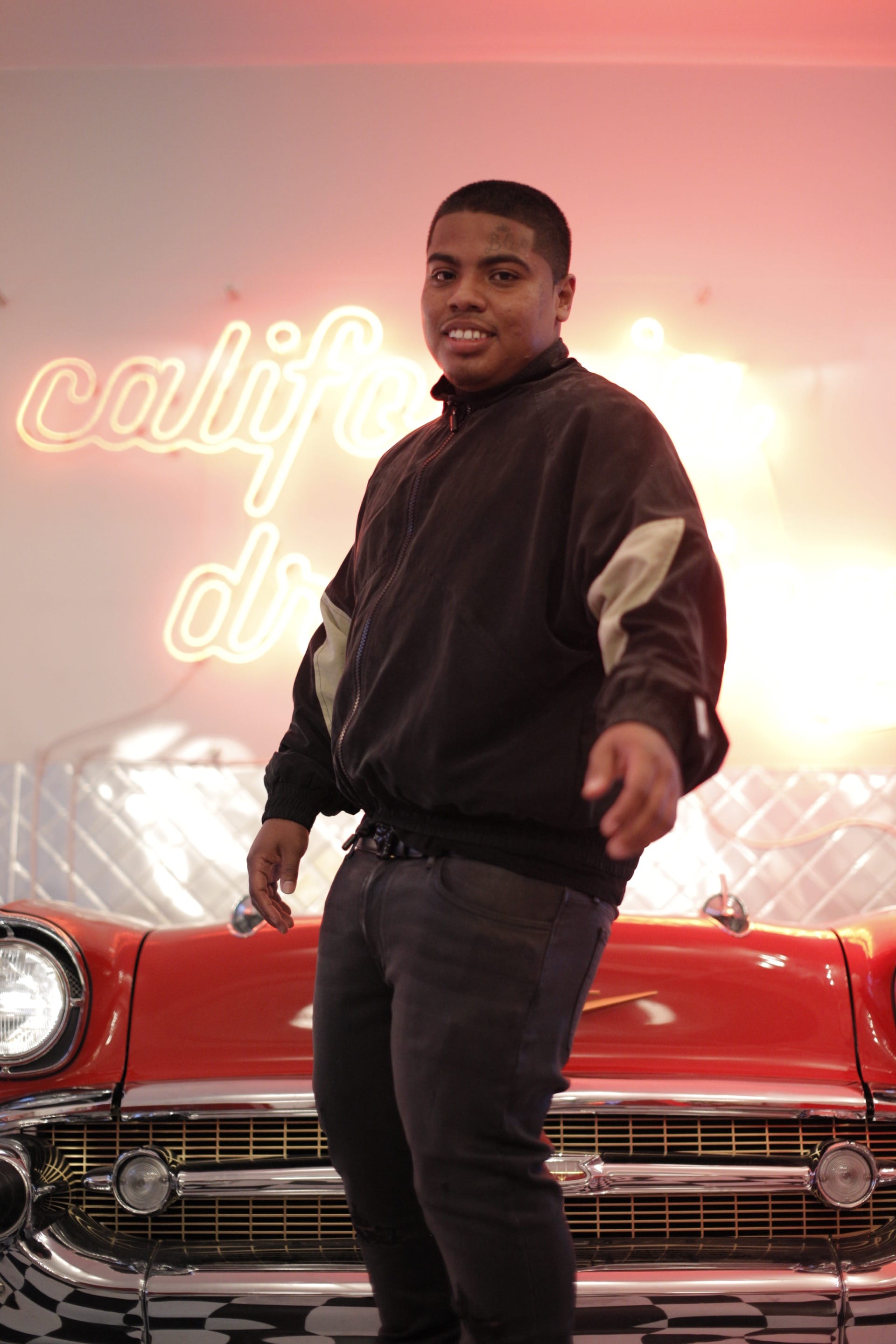 What did you think of Drizzy's nicknames for you? I think he called you "Slim Smiley" in that video. And "Bobby Valentino." [Laughs.]
Yeah. [Laughs.] This guy comes up with things so quick. It's so crazy. But then people actually start calling me that, you know? It's just so funny, still. Honestly, people are sending beat packs and now it says, "For Bobby V." [Laughs.] Like, what the fuck? Even the same night he posted that, someone sent me a beat pack and it said, "Bobby V." And now I'm getting bare comments on my posts saying, "Slim Smiley." I'm like, Holy fuck. This guy has the fucking power.
Just one mention on IG and now that's your new name. [Laughs.] Fucking wild, man. Well, I know Drake's been fucking with you for a while. He gave you a co-sign early on in your career and he's been giving you shout-outs over the years. Talk about how that relationship came about.
So like, he heard my songs from when I had my first wave. A long time ago, it was 2014 or something like that. He heard those songs and I guess he paid close attention. And then when I took a break and I came back, I dropped this one song called "Hit" with my other guys on the song. That was the first time I'd ever seen that Drake knew who I was or anything; one of his boys posted my song, and he commented under it and said, "Smiley = G.O.A.T." And then that's when I was like, Oh fuck, this guy knows who I am and shit. So then, probably a couple of days later, he followed me on Insta.
Probably a couple months later I got sentenced for a gun charge and stuff. And then while I was in jail, he messaged my Instagram account and just gave me a long message saying he fucks with the movement, he likes my music and stuff. And then a couple weeks later while I was still in jail he dropped the Scorpion album. The day after he dropped it, he wrote his inspirations for the album and he put my album Buy. or. Bye on there. And then from there, we just built our relationship.
Tell me about that moment: You were in jail, probably not feeling so great, and then you get a DM from one of the biggest rappers in the world, telling you to keep going. What did that do for you?
I was just bare thinking, What the fuck? Why me? type of shit. I didn't understand. I mean, not that I didn't understand, but at those times, I never had the biggest clout, I never came from such a big hood for him to even know about it, you know? So that's why I was just tripping out. But I'm just like, yo, that boy knows. [Laughs.] He knows when talent's coming. It just felt sick, to be honest. It gave me a new energy…. Yo, that same day, in my cell, I started rapping to myself. I was like, Fuck, this shit's serious. I need to get the fuck out of here and start going. It made me take it more seriously.
That's so cool, man. What kinda advice does he give you nowadays?
Just to always keep going. Just keep dropping music, and just keep attacking stuff. He just tells me to enjoy the fucking journey. Like, the whole thing. Even right now, you know? Don't try to just fucking rush it. You know, these times are the good times too, when you're not at that spot right now. I'm going to probably miss these times once I'm up there.
You recently posted a photo on Instagram of yourself, Drake, and Oliver [El-Khatib, Drake's manager] sitting at a table. What was being discussed there? 
Oh, we were actually just chilling there. It wasn't anything like that. We were just watching TV and stuff and just catching up. I was talking to Oliver too. That's my boy right there, you know? It was just good just talking. I have a special announcement soon coming with Oliver. I'm going to announce it on my Instagram soon when the time is right. Oli is fucking smart. A lot of things that he says, I listen to and it's good for me. It's motivational stuff, you know? I can't think of all of them right now because there's so much, but everything he's ever said to me is so smart. 
Have you guys ever talked about you joining OVO? 
Um, not really like that. Those are all like, yeah… [Laughs.] This guy. But honestly, it's not even about that because the best part of it is they've all just been supportive like I was one of them, you know? So, I do nothing but show the love back. It's a good thing.
"It means a lot to me that I'm inspiring people. That actually makes me feel better than anything!"
Let's talk about Buy. or. Bye 2. What's the album about?
It's just about how Smiley now is more focused. He's doing things. He can't live like you guys no more. My life's transitioned, that's what it basically is. You'll be able to tell [that there's] growth. 
Will we hear a Drake feature on it?
Hopefully, still. [Laughs.] I don't know, still. We're gonna have to see about that. But I'm about to have a great year, though. I'm about to move up.
You guys already have that one track together, "Organization."
You fuck with it? [Laughs.]
Hell yeah, man! It's fire. When is that dropping for real? 
I don't even know about that song. I actually don't know about that song. [Laughs.]
How did it come about, though?
Honestly, those types of things I don't like to talk about or anything, you know? 
Alright, alright. Well, talk about Buy. or. Bye. You've got the acronym tattooed on your face. It obviously means a lot to you. For the uninitiated, how would you explain what that saying means?
It basically came from trapping. Me and my guys would always be telling the beans, "Buy or bye." At first it was just a thing we'd always say, like, "Alright, buy man!" And girls would end up saying, "Buuuuy!" We always said it. And then one day I was just drunk and I was like, "Alright… buy or bye… what fuck? That's real shit! Like, buy or bye!" [Laughs.] It just came from when I was younger and in the streets doing all that stuff. It basically meant, like, buy drugs or bye. But then you could use it for a lot of different other things. 
Would you say the meaning of it has changed over the years? 
Yeah. Yeah it did, still. Because now it's Bobby. It's Bob. [Laughs.] Call me Bob, man. Fuck. 
Well, yeah. [Laughs.] I was going to say, it's the name of your next album too, but your life has changed so much in the last couple years. You're obviously in a different spot, right? You're trying to be a legit rap star and you're working out and shit. So what does "buy or bye" really mean to you now? 
So, it's still part of my lifestyle. Like first of all, buy or bye, now that's a part of me. That's me. And I could use it for anything. Also, Buy. or. Bye, I always wanted it to be like how Lil Wayne has Tha Carter I, Tha Carter II, Tha Carter III, and all those. So that's what I kind of wanted with that. But now it's just more of a saying; now I could use it, like, "Yo, support me or bye. Buy my music or bye, you know?" Like, anything. It's buy or bye. And up to now I could still use it. I just feel like it could still [apply] to the music, the fitness, the personality, everything. Real shit. 
Right on. Well, I'm excited for what you've got going on, man. Loving the new single, and the art for it too. I like how it showcases your old projects in Pelham Park.
Yeah. So, that was actually Oliver's idea too. He helped me out with artwork. It looks tough. You know, it meant so much, just seeing the artwork and seeing where I came from and everything that's happened from there. You always have to show love to where you came from, you know? Show love to whoever showed you love first.
Would you say that neighbourhood influenced your sound? And does it still influence it today?
Yeah, for sure. Just from what I was going through, a lot of the things I was rapping about, it's what made me today. Everything came from there. In the city, there's a lot of neighborhoods where they have a lot of shooters and stuff and all that. In Pelham, there was just a lot of drug dealing going on. It just made me want to do all that stuff. I'm doing music now, but, you know, that's just what it was. Pelham just made me a trapper.
Well, you've come long way, bro.
Fuck, you know? Those times were crazy. It's actually fucked up. When I was trapping there, the buildings were just fucking… the best place for that. [Laughs.] And they love me; to this day, all my old beans, they fucking message me and tell me they miss me. They say, "I'm so happy for you." They even find me on Snapchat. I'm like, What the fuck? How the fuck does a bean find me on Snapchat? But I'm nice to all of them, you know? I'm nice to them and that's why they're nice to me. They find me. They always tell my friends to call me or they just want to say hi to me. They say, "We miss you. We see what you're doing. We heard you on the radio!" So it's love, man.
They see how far you've come too.
Even before, when I was still out there and I was just like, I love doing this…. I don't really, but it was just fun. I never want to do that again, though. But sometimes the beans, they would tell me, "What are you doing out here still? You don't want to get caught up or anything, you know?" And I was just like, Holy fuck. The beans are telling me this? And they love me so much, they want me there, but it's like a love-hate thing where they just want the best for me as much as they love me being out there, you know? So just hearing them tell me that was crazy. And then, it also got to a point where I couldn't tell people I'm on roads. It went so far where I just had to actually say, "Fuck. I can't do this shit anymore."
I'm happy you were able to get to a better place. It's good to see you living well.
Thank you, bro. Make sure you go work out too and clear your mind and everything. 
Totally! I'm gonna go for a run right after this. You've just inspired me. You're like a motivational speaker! 
I appreciate that people actually say that. That's good, fam. You know, it means a lot to me that I'm inspiring people. That actually makes me feel better than anything! Like, the fact that I could actually motivate people is sick.