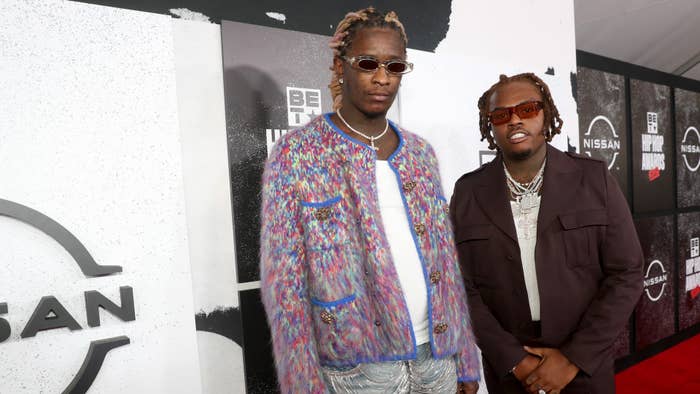 UPDATED 5/11, 9:25 a.m.: Gunna turned himself in to the Fulton County Sheriff's Office on Wednesday. As previously reported, he's facing a RICO (Racketeer Influenced and Corrupt Organizations Act) charge, specifically conspiracy to violate the act.
Gunna's mugshot was subsequently shared:
See original story below.
Young Thug and Gunna are among 28 people associated with YSL that have been charged in a 56-count indictment on Monday, according to WSBTV's Michael Seiden.
Young Thug, born Jeffery Lamar Williams, was taken into custody after the home he was at was raided and is being held at Fulton County Jail. The Punk artist been charged with conspiracy to violate the Racketeer Influenced and Corrupt Organizations Act (RICO) and participation in criminal street gang activity, according to jail records. The conspiracy charge stems from an alleged incident that occurred on January 24, 2013 while the gang charge is connected to an alleged offense from May 12, 2018. 
Gunna, real name Sergio Giavanni Kitchens, has reportedly been charged with one count of conspiring to violate RICO. 
Thug is accused of renting a car that was used in the 2015 murder of 26-year-old Donovan Thomas that also saw two others wounded in the drive-by shooting. Christian "Big Bhris" Eppinger, who was also named in the 56-count indictment, was arrested earlier this year in the shooting of an Atlanta police officer. According to WSBTV, prosecutors are claiming that Eppinger and Antonio Sumlin asked Thug for permission to make an alleged second attempt on YFN Lucci's life. Lucci was allegedly stabbed while at Fulton Country Jail in February.
Complex has reached out to reps for both Young Thug and Gunna.
For a full breakdown on the RICO indictment, click here.