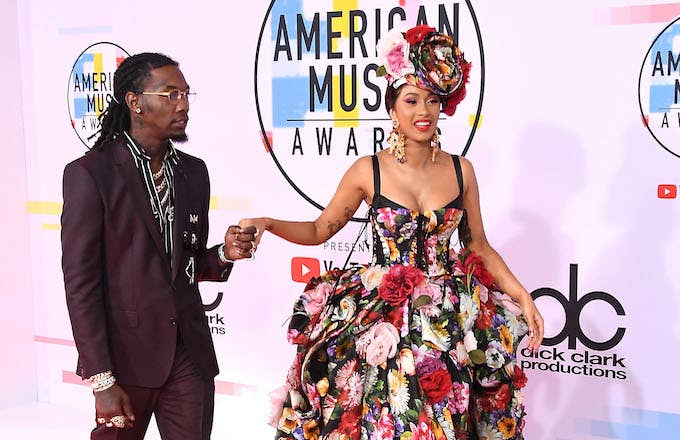 Cardi B took to Instagram to say that she and Offset have broken up.
"So everybody been bugging me and everything. And you know, I been trying to work things out with my baby father for a hot minute now. We're really good friends and you know we're really good business partners... He's always somebody that I run to, to talk to and we got a lot of love for each other but things just haven't been working out between us for a long time," Cardi says in the video. "It's nobody's fault it's just like I guess we grew out of love. But, we're not together any more. It might take time to get a divorce. I'm always going to have a lot of love for him because he is my daughter's father."
The two rappers have a child together, Kulture Kiari Cephus. The baby was born in July.
Check out Cardi's post announcing the break up below.
Offset later commented on Cardi's post, confirming the split. "Y'all won," he wrote. 
Offset proposed to Cardi back in October of 2017 at Power 99's Powerhouse in Philadelphia. 
"I'd seen her potential, her vision, her grind. Whatever she does, she's going to master it. She's like me. She brings excitement and pressure to me, but I like that," Offset said about Cardi in a recent New York Times profile. "She's No. 1, so every time I'm hitting the charts, I've got to be Top 10." Elsewhere in the piece, Offset teased a collaborative project with Cardi: "We haven't even dropped an album yet. That's a whole other realm."