Melbourne's AO Crew built their crew IRL, and turned it into 10 million views online. Founding member Cecilia Nguyen tells Complex AU how K-pop connected her crew, and how AO took it from the South-East of Australia to South Korea.
Back in April, BTS' music video for "Boy With Luv" broke the YouTube record for most streams within 24 hours of release (74.6 million) – a record broken the previous week by Blackpink's "Kill This Love" (56.7 million streams).
This year has seen BTS perform back-to-back sold-out stadium tours across North America, Brazil, Europe and Asia, and Blackpink become the first K-pop girl group to headline Coachella.
Here in Australia, BTS' new EP Map of the Soul: Persona recently took first place on the ARIA Albums Chart, while Blackpink's Melbourne and Sydney shows were sold out long before the group touched down to perform in June this year.
K-pop is officially a cultural behemoth. The streams register in the hundreds of millions, the shows are sold out, and the merch is gone hours before the pastel-coloured dry ice spills out onto the stage. Despite the numbers though, K-pop is still a niche interest in Australia. Similar to the way '90s hip-hop was producing global megastars but seldom played on Australian airwaves, Korean pop music is yet to clear cultural hurdles to become a staple of antipodean pop culture.
The concept of engineered pop groups with fine-tuned dance routines being 'underground' is hard to grasp, but is the best way to describe the status of K-pop in Australia. As with any emerging cultural movement, the real connections are made before widespread exposure. Digital platforms like YouTube and Twitter are unifying and mobilising a new generation of K-pop fans, who create, perform, rework and share materials with an ever-connected online community. 
Digital communities providing a home for niche interests is nothing new, but in the case of one Australian dance crew, a passion for K-pop dance routines has manifest itself in high-energy public dance activations. 
For anyone who loved Blackpink's "Kill This Love" to the extent that they felt compelled to recreate the dance routine at Federation Square; look around, there's a crew for that.
Cecilia Nguyen is a founding member of Melbourne's AO Crew, which has been performing K-pop choreography since 2013. Alpha and omega, the first and last letters of the Greek alphabet, symbolize the crew's fierce determination to be the first to try new things, and the last to leave the stage. 
The crew bonded over their love of a niche interest, and things quickly grew from there. 
"Finding a community back then that loved K-pop really bonded us," Cecilia tells me. "To the point that we'd all come to watch each other's performances and support each other on social media. It's grown so much, but started with us liking K-pop by ourselves in our bedrooms. There was comfort in finding friends that liked the same thing as you." 
In 2013, AO Crew won the Melbourne leg of the K-Pop World Festival auditions, and was flown to Changwon, Korea to compete in the finals.
"When we came back, we felt really motivated to keep going, and so continued to dance and hold auditions to expand our crew."
The crew continues to grow to this day. In spite of the rhetoric about Gen Z being dangerously online at all times, AO prefers to recruit IRL. 
"When we have performances, we often meet a lot of people in Melbourne who like to dance and come to watch us. We also get to know people through dance studios.
It's all about meeting people in real life, because then we get to see their personality. It's not about who the best dancer is, it's about who we really like and get along with."
For Cecilia, being part of her crew is like "having a second family, because we spend so much time with each other. We get to experience a lot of fun things together. We also see each other's growth, because we've been together for over six years."
When Cecilia first joined, she was the "maknae", a Korean term for the youngest person in a group that is often used affectionately within idol groups. 
"As we've grown over the years, we've gotten new members, so I'm no longer the youngest in the family.
It's crazy to think that dancing together has formed such close bonds between us. We've also made a lot of friendships outside the crew."
AO Crew cites K-pop idols and choreographers as their main dance influences, as their videos are inspired by and based on the original videos. They admire choreographers such as Shaun Evaristo and Parris Goebel for the magic they are able to create from behind the scenes. 
"We want to do the best we can to learn and adapt the choreography, and perform it in a way that does justice to the original."
Depending on the difficulty level and the number of members involved, it can take from one to three weeks for AO Crew to rehearse and film a choreography video. When pressed, they've managed to wrap things up in just two days.
The source material comes easily. Idol management will usually upload a separate choreography video soon after the official MV is released, to satiate fans' expectations of endless content.
Cecilia notes that idol groups' use of social media makes it "feel like they're your friends, which feels more personal." 
On the importance of social media in spreading K-pop's message to a global audience: "social media platforms weren't used as much by the previous generation. Now, everyone in the younger generation has a phone and is active on Instagram and Twitter, which not only helps to spread the word of K-pop, but also helps you to find friends in the community."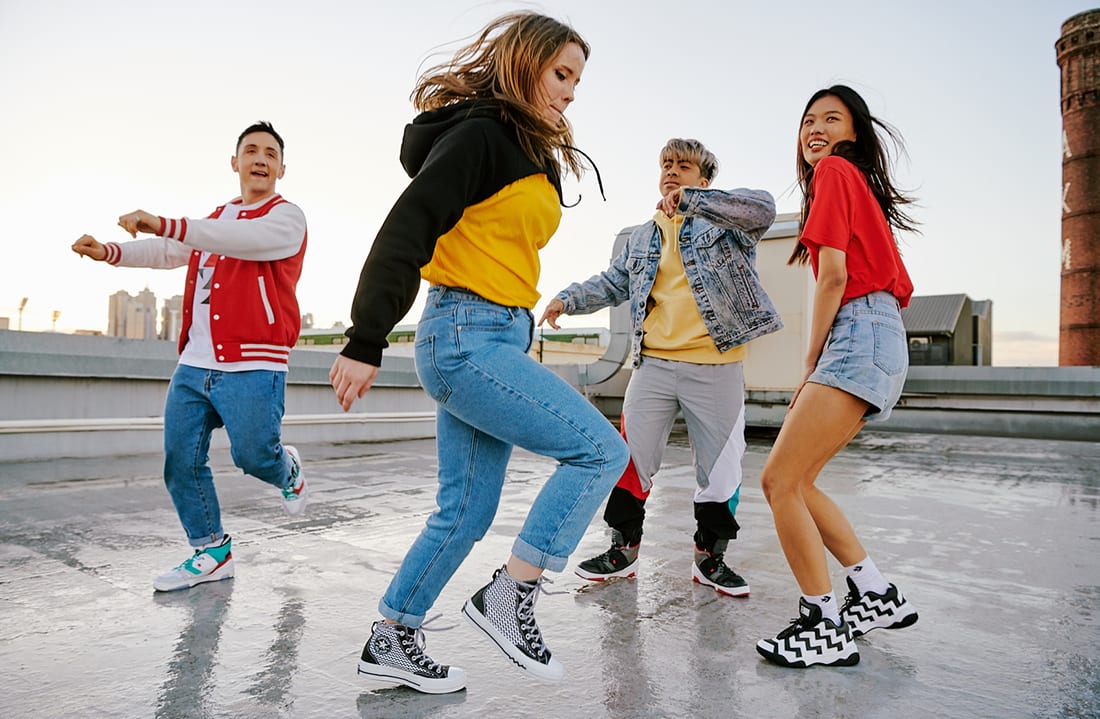 AO Crew uploads their choreography covers to their YouTube channel, which are then cross-posted on Facebook and promoted on Instagram. 
One of their most viewed covers is BTS' Blood Sweat & Tears, filmed in 2016. Dressed in baroque suits like those worn by BTS, the crewmembers perform rehearsed steps in their unique styles. The opulent setting resembles the MV's mansion interior. Colorization and haze further add to the somber mood. In adapting and remixing the source material, AO Crew has created a faithful homage that is still distinctly AO.
The crew regularly performs and films covers in Melbourne's public spaces, spreading K-pop's reach to every passerby who stops to watch, as well as to their viewers online.
Cecilia has noticed a marked shift in attitude towards their performances since starting out, which she attributes to an increased awareness of K-pop.
"I definitely feel like people are more open to it. Because they know a little bit about K-pop now, we're something that they can understand; we're part of this culture from Korea, and we're not as distant. When we performed in public in the past, a lot of people would question it – not in a rude way – but they just didn't understand it. 
Now, people have more curiosity and are more open to trying to understand, or just appreciate the effort we put into our performance. A lot of people have opened their hearts to what we're doing, which we're really excited for, because we get more opportunities to dance."
With their busy schedules, the crew can't always find time for dance – which makes every live performance a memorable one.  
"We really love doing live performances because we have each other's company, as well as friends and family cheering us on. It's the best feeling to have a crowd clap and cheer for you when you finish. It makes all of the hard work and late nights worth it."
Noting the lack of resources available when they first started, AO crew saw the need for a space where K-pop fans could learn to dance and foster relationships with other fans. They frequently host dance workshops for anyone that wishes to participate.
"We wanted to give something back to the community that has been so supportive of us over the past six years. It's about us sharing what we know and what we can do to help them. K-pop is an online thing, so it's rare to find something in Melbourne that people can attend physically.
In the past couple of years of doing these workshops, we've found that people keep coming back. Many were fans of ours, who have now become our friends, and so it's crazy to think that if we'd never done this, we'd never have met them, and they'd still just be behind their screens. 
That feeling is so rewarding that we want to keep doing the workshops, and keep creating possibilities for people to meet new friends and try dancing."
For those looking to start their own crew, Cecilia recommends choosing personality over technicality. 
"If you have your heart in the right place; to want to be in a crew that dances and has fun together, that will not only start the crew but keep it going for a long time. If you're just there to choose people who would just be the best dancers, then you might not get along or feel as close to each other."
Cynthia and AO recently partnered with Converse to tell the story of AO Crew.
"The Converse campaign is a mini biography of us, and shows how our lives have revolved around dance, rehearsals and K-pop. We were lucky to try out all of their new gear for a photo shoot, dance, and just be ourselves. 
It was a new experience in terms of the professional setting and the photography aspect. We're used to videography but not photography, so we got to learn a lot about ourselves through that process. Converse were really helpful in guiding and coaching us, but also encouraging us to be ourselves and do what we normally do."
Catch AO Crew performing their craft at Platypus Shoes Melbourne Central on Sunday 25th August at 12pm.