6ix9ine Loses an Attorney and Goes on Lockdown: Notes From Tuesday's Court Hearings
Everything from 15-year-old legal cases to the government shutdown got aired out on Tuesday in the latest hearing for Tekashi 6ix9ine and his co-defendants.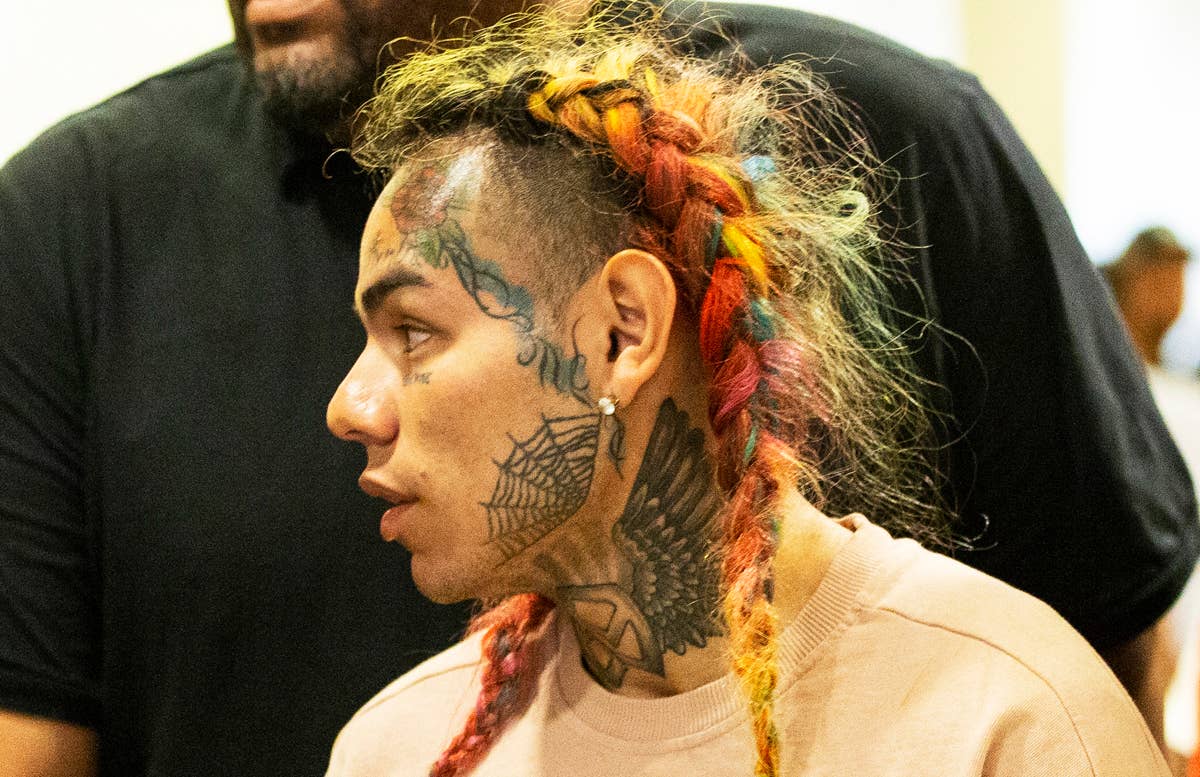 Getty
Image via Getty/Bob Levey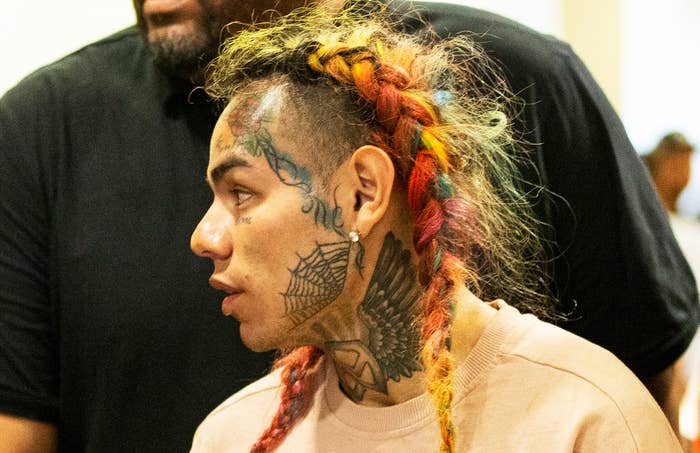 The racketeering case against Daniel "6ix9ine" Hernandez, his former manager Kifano "Shotti" Jordan, and six other co-defendants took another slow step forward on Tuesday afternoon.
The biggest news is that 6ix9ine had to drop his main attorney (though possibly only temporarily), but the hearings also dealt with jail conditions, the government shutdown, and much more. The possibility of bail, for 6ix9ine or anyone else, was not raised.
The first of the day's two hearings was supposed to be simple. Attorney Scott Leemon started the case representing Shotti, but quickly quit due to nonpayment issues. He let it be known earlier this month that he wanted to rep Shotti's co-defendant and longtime friend Jamel "Mel Murda" Jones instead. Jones, 38, was in favor of the change despite any potential conflict of interest, as was Jordan, 36. The latter is now repped by the offices of Jeffrey Lichtman, better known as El Chapo's lawyer.
But just as Judge Paul A. Engelmayer was set to rule on this not-very-contentious issue, something dramatic happened. The state brought up the fact that 6ix9ine's lawyer Lance Lazzaro had represented Shotti in a number of prior cases, and had also previously represented co-defendant Faheem Walter.
6ix9ine didn't look at the assembled crowd often, and spent much of the time not making eye contact with his co-defendants.
The day's second hearing was attended by all of the co-defendants (only Shotti and Jones were present at the first). They were all shackled, some in blue jumpsuits and others in tan. Similar to the November hearing, 6ix9ine was in a row of chairs apart from the other defendants, and he had a guard sitting on each side. He didn't look at the assembled crowd often, and spent much of the time not making eye contact with his co-defendants. Shotti, for his part, appeared confident throughout both hearings, frequently laughing and talking to his co-defendants.
The details around Lazzaro's potential conflict of interest became clear as the hearing progressed. The lawyer had previously represented Shotti in four separate cases between 2004 and 2015. They were all minor: three were dismissed and one resulted in a misdemeanor. More interestingly, Lazzaro defended Walter from assault charges (which were recently dropped) stemming from 6ix9ine's celebratory dinner at Phillipe on October 26—a dinner that ended in gunfire when several people in 6ix9ine's entourage allegedly tried to bust into the meeting between the rapper and his label head Elliot Grainge. Walter was shot during the incident by one of Grainge's security guards.
With the potential conflicts of interest piling up, Judge Engelmayer threw Lazzaro off of 6ix9ine's defense team (which also includes attorney Dawn Florio) until the issues are resolved.
After the hearing, Lazzaro seemed unbowed. The cases in which he represented Shotti, he told me, were "very remote in time. I don't see it as any conflict."
The afternoon hearing also dealt with government evidence, and the ability of the defendants and their lawyers to view it. It's an issue that even in the best of times is complicated by inmates' access to the law library, which is often limited to just an hour a week (not much time to go through 40+ computer discs full of evidence).
The government laid out all the types of evidence it has against 6ix9ine, Shotti, and the rest of the defendants. An abridged list includes phone records, wiretaps of Mel Murda's phone, prison phone calls, videos of narcotics transactions (again, the government claims, of Mel Murda), in-person secret recordings by a confidential informant, emails, Walter's Snapchat account, 6ix9ine's Instagram account and cell phone information, and more. The government also explained that they have several phones from the defendants, which they haven't yet been able to unlock.
The defendants' ability to look at all of the evidence, it became clear, was limited by a number of factors. First, there has been limited access to the law library, and to other computers that would allow them to review the materials. Second, inside the Metropolitan Correctional Center, where some of the defendants are housed, there is another unnamed inmate (unrelated to the 6ix9ine case) who is not allowed to be anywhere near the defendants in this case, which leads to logistical issues.
SHOTTI simply said, 'We love y'all,' to the assembled supporters as he was led away.
Most importantly, there's the government shutdown. Multiple attorneys said they weren't allowed to visit their clients because the shutdown has led to inmates being on lockdown (many federal prison guards are currently working without pay due to the shutdown). Several of the defendants said they'd been on lockdown for the past five days. They have been kept inside their cells, unable to see their lawyers or families, and certainly not allowed to visit any law libraries. Lazzaro confirmed to reporters after the hearing that 6ix9ine, who is currently being held in a separate undisclosed location, has also been on lockdown for five days. Although he wasn't told directly that it was because of the shutdown, he said it was "inferred."
The next hearing, which will occur on February 27, will deal with technical issues surrounding the indictment (mandatory minimum laws for some of the charges have changed since the defendants were arrested because of December's First Step Act, so there will be some re-charging). In addition, Aaron "Bat" Young, who was arrested just last month and was in court on Tuesday, will be officially added to the indictment. The hearing will also serve as a chance for attorneys to file suppression motions, in an attempt to stop the government from using specific pieces of evidence.

After the hearing, Lazzaro said that he was seeing his once (and possibly future) client 6ix9ine "at least once a week," and that he was in good spirits, considering the circumstances. Shotti, in a noted contrast from his defiant, "We don't fold, we don't bend, we don't break," posture at the last hearing, simply said, "We love y'all," to the assembled supporters as he was led away.