Big Sean and DJ Mustard are on the hunt for the next superproducer. If you wake up each morning dreading the day before you because it's not stacked enough with production-related creativity and an appropriately high amount of money for such an undertaking, keep reading.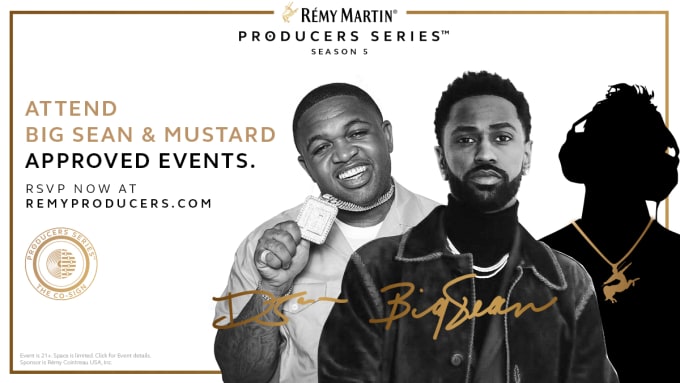 For season 5 of their Producers Series, Rémy Martin has tapped Sean and Mustard to lead the search with some help from Live Nation. The victor will be given a "co-sign" from the two to produce a song and lyric video. To enter, head to RemyProducers.com starting today and submit your best work for a shot at competing against others at seven talent showcases scheduled for Live Nation venues across the country. Submissions will also be judged by a "team of industry experts,' with the final showcase set to hit Los Angeles in September:
June 28 - New York City
July 18 - Detroit
Aug. 2 - Las Vegas
Aug. 9 - Miami
Aug. 16 - Atlanta
Aug. 22 - Chicago
Aug. 30 - Houston
Sept. 26 - Los Angeles
As for what Sean and the team will be looking, Sean told Complex it all starts with inspiration. Sean also handed out some quick advice for aspiring artists who've yet to crack the industry code. "Keep your faith," he said. "Make good relationships and never count anybody out. A solid team is key. The better the team, the more efficient you can be. Keep a clear head, 'cause money, sex, drugs and jewelry are temporary fixes. It's all about balance. When you believe in something, you gotta make your life revolve around it. Emerge yourself in your dream and make it your purpose for waking up every day and going so hard."
Added DJ Mustard: "I'm back at it with Rémy Martin calling on all producers to submit their beats for Season 5 of the Producers Series. Big Sean and I are looking for the hottest new tracks out there from anyone and everyone, whether a first time beat maker or fulltime producer. I'm here to help make dreams come true!"
"We look forward to collaborating with Rémy Martin to amplify the Producers Series further," Shavonne Dargan, Senior Vice President of Media & Sponsorships, Live Nation, said. "This platform is well aligned with Live Nation's goals of creating culturally relevant, engaging consumer programming enhanced through live events,"
Rémy Martin is simultaneously launching the 1738 ® Limited Edition Speaker Box, described as a "premium amplification device," in collaboration with Live Nation. More info is available here.