We'll ignore the fact we got hit with a disrespectful winter storm over the weekend and instead say it's almost festival season here in Toronto! One of our city's flagship events is back in 2018 with some renewed programming that should excite music fans with a penchant for discovery and emerging acts: NXNE is expanding on its Club Land Curators series which made its debut last year, and will host over 30 events across six nights that can all be accessed with one, low-price wristband.
All the shows in the Series are curated by leading Canadian musicians and music personalities, and will include diverse programming including art installations, emerging artist showcases, late night DJ sets and after parties, all in Toronto's most cherished venues including The Garrison, Baby G, Rivoli, Sneaky Dee's, Hard Luck and more. Curators include K-OS, Cadence Weapon, Saya, Ralph and Prince Josh of Prince Innocence, among others. Wristbands for the entire series are just $29, and can be purchased on the NXNE website now.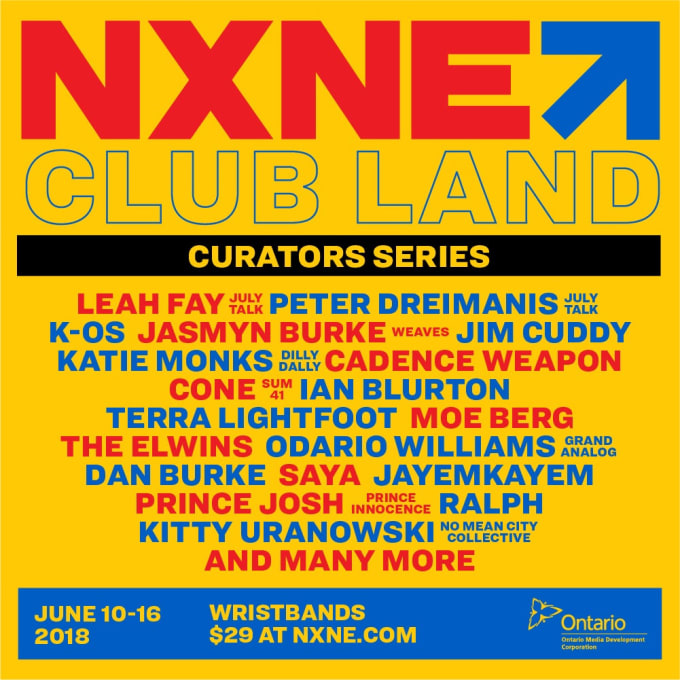 After introducing the Club Land Curator Series last year to positive reviews, NXNE decided to bring it back in a big way, more than tripling the number of curators and shows. "We're thrilled to have top Canadian artists share the spotlight with up-and-coming acts that they believe in," said Michael Hollett, NXNE Founder / President of the ramped up program. "We think this is a great refresh for the club hopping wristband that has been an essential part of NXNE since 1995." 
Also returning for a second year is NXNE's three-day live eSports extravaganza, Game Land, which will have hundreds in attendance and tens of thousands viewing online via NXNE's  twitch channel. The free event is open to the public and will feature an Exhibitor zone, public gaming stations for DBZF, SFV, and Smash Bros., and a VIP Lounge where top players, musicians, influencers and leaders will come together to play and compete in the opening weekend events.
More info on Game Land can be found on the NXNE website, and be sure to stay tuned for even more NXNE programming news in the coming weeks including what the festival has in store for its highly-anticipated return to Yonge-Dundas Square.