Justin Timberlake is currently on tour in support of his new album Man of the Woods, but he's taking the fan user experience to new places digitally. JT has partnered with American Express for an app called Outside In that immediately bodies the mixed reality experience.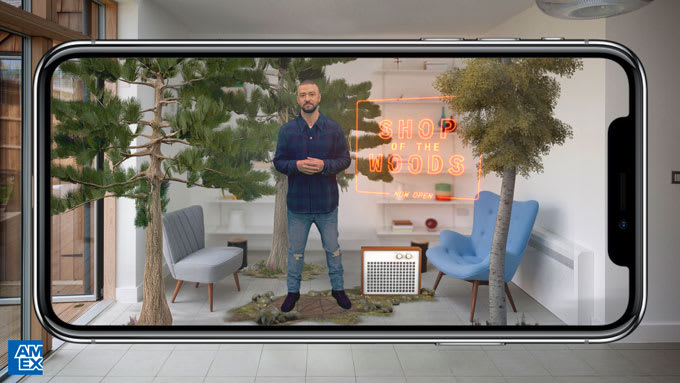 Justin, of course, has enjoyed a healthy and fruitful relationship with AMEX. Card members got to hear Man of the Woods weeks before its release after all at a special NYC event. But having played around with the app myself, it's definitely more than a corporate synergy write-off. It's actually highly immersive, with JT appearing before you as songs like "Breeze Off the Pond" (best song on the album, btw) to discuss the origins, inspirations and intent of the track while woodsy settings literally spring up around you. That the app designer used stems from the actual studio sessions rather than just playing the mp3 in the background only adds to the immersion.
Of  course, there's a commerce aspect as well. You can shop JT/MOTW merch in it as well, including pieces designed by  Heron Preston. A lot more fun than lining up in your local stadium's merch line. To engage with JT in his woodsy zone, download the AMEX music app. And, you know, be a card-carrying AMEX member.