There are certain things a person never forgets, like their first kiss or their own birthday. But for   Philadelphia rapper LGP Qua the moment that's etched into his memory—down to the specific date—is the day he became a viral sensation. "I did a freestyle November 15th," Qua asserts, "that's the legitimate date." Meek Mill had just been sentenced to two to four years in state prison for violating parole, and to hear Qua talk about it, Philly was going crazy. "We felt that it was… unfair on just how he got sentenced," he says. "We thought it was injustice [and so] I decided I would speak on it, and it just happened."
The resulting cut, "New York Freestyle," paid homage to Robert Rihmeek Williams but even in its brevity, still packed a punch. A portion of Qua's verse goes: "They gave Meek a two to four for a violation /  But gave that rapist boy six months; this shit is getting crazy."
In the weeks and months that followed, LGP Qua would go from a relative Philly phenomenon to a viral national sensation, getting cosigns from Nas, Jay Z, and will.i.am. The latter even went on to record a track with the younger rapper titled "INSOMNIAC (woke)." Even with 25 years between them, the two feel right at home together on a track that tackles issues like gun control, police brutality, institutionalized racism, the prison industrial complex, and social media complacency, all in under three minutes.
It seems quick hits are Qua's specialty.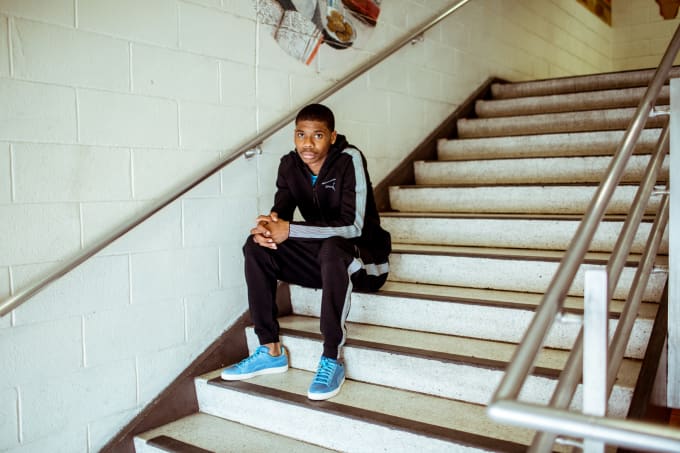 Hailing from North Philly, Qua traces his musical ambitions back to the city's lyrical roots. "Philly is the home of the spitters," he maintains. "That's what the city's really known for." With early exposure to hip-hop, Qua first learned to rap as a child around 2005 but he wouldn't see it as a viable career path until around 2016. After a short stint in prison, Qua reevaluated his life's mission and gave himself fully to his craft. "The defining moment came when I went to jail," he recalls. "I like to make music and I'm tired of coming to jail; so [do I] get a job or do this rap thing and make a mark?"
Qua's raps are socially conscious, something that is not all that common in the current crop of rappers blowing up the charts. Although he often touches on subjects that might leave some feeling alienated, Qua knows that many won't follow the wisdom laced within his rhymes, but that doesn't inhibit his determination. "I rap to get a message or a point across," he says. "So you could take that and do whatever you want with it, and hopefully you do the right thing with it." Despite being just 18 years old, Qua is already seen as a pillar in his local community, so much so that many have even begun referring to him as "Voice of the Youth," and tagging him as such on social media. "[I've] seen a lot of positive feedback," Qua explains. "When I was coming out the store, some young kid came up to me and said, 'You're the one that be rapping, you're the voice of young people.'" Qua wears it as a badge of honor, claiming, "my city gave me the name."
LGP Qua lives for his city and his city has been championing him for as long as he's been rapping. Beyond music, he feels a connection to his hometown's sense of style. "Philly definitely got style, always had style, we make anything look good," he says.
While Qua claims his favorite threads are anything that makes him feel comfortable, he can distinctly remember when he first started wearing Puma. "I had to be no older than 12 or 13 years old," he explains. "Anytime you see some sneaks on a commercial and [then] you'd see somebody walking in the neighborhood with the sneaks, you're gonna take a trip on Broad Street." That's where his local Foot Locker was and Qua points to it as the go-to destination for him and his friends. "It was an every other week natural thing for me and my guys."
Qua recently partnered with Puma and Foot Locker and gifted PUMA Suede​s, as well as $10,000, to his former elementary school, Edward T. Steel. Qua is known for his regular visits to the school to talk with the students, explaining, "I see kids coming out of school telling me their poems or [asking me] what I think about this, I tell them what I think, [I tell them to] 'keep going.'"
On Thursdays and Saturdays, Qua and some friends will grab a few kids to play basketball over in Cheltenham, an unincorporated community just past Philly's city line. He tries to tell them that it's cool to be smart, that it's cool to get good grades, to be nice, and to be the "good guy." Well aware of how this might make him look, Qua changes the conversation, clarifying, "People are so used to [glorifying the bad guy], it's just how they grew up, you can't help what they're used to listening to, but that's where I come in at."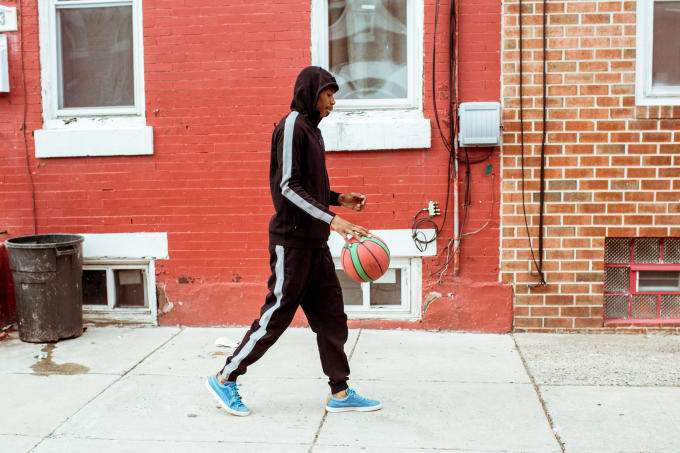 Thinking back on the contributions of Puma and Foot Locker, Qua could see this having a positive chain reaction. "I feel like, 'Let's keep going,'" he explains. "Stuff like this should be happening in the neighborhoods and it would just affect so many more people on a crazy scale. It just makes you feel better, their faces were so happy, everybody was happy."
LGP Qua's first mixtape Voice of the Youth, Vol. I is set to drop soon.