Everything We Know About Cardi B's Debut Album, So Far
A look at everything we know about one of the most anticipated debuts of the year.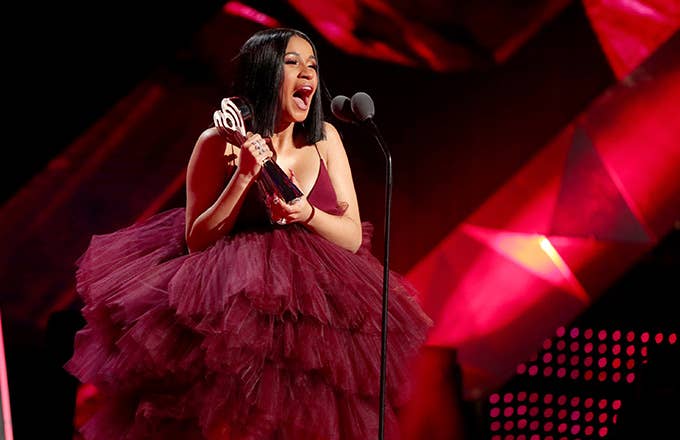 Getty
Image via Getty/Christopher Polk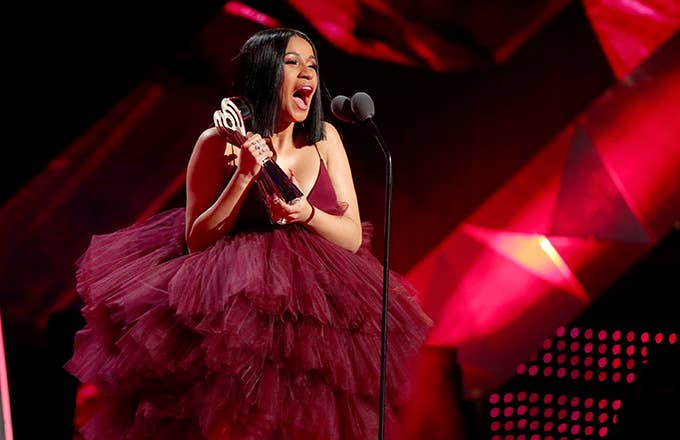 Ever since Cardi B's "Bodak Yellow" shot to No. 1 on the Billboard Hot 100, fans have been eagerly awaiting the Bronx-native's debut album. The 25-year-old rapper has been incredibly busy over the past year, appearing on TV and popping up on several notable tracks. While quickly climbing the ranks of rap's elite, she also got engaged to Offset of Migos, which added to her cultural dominance of 2017.
With the announcement that she'd be joining Bruno Mars on the 2018 North American leg of his 24K Magic World Tour, Cardi made it clear that 2018 was going to be just as huge a year for her, if not bigger. And on Sunday night, she revealed the album will be coming in April.
Now that we know the album is dropping as soon as next month, let's take a look at everything we know about 2018's most anticipated debut.
At the 2018 iHeartRadio Music Awards, Cardi B kicked off the show with a medley of hits. Later in the show, she finally confirmed that her debut album is actually on the way after a number of delays. Winning the award for Best New Artist, she proved to be the real highlight of the night in general.
Thanking her team, her family, Offset, her fans, and even her haters, she ended her speech by saying, "My album will be coming in April. Yessir, April. Stay tuned motherf—. Owww." While we don't have any specifics as to when we can expect the album yet, she has promised fans she wouldn't be rushing anything. Regardless, it's nice to know we don't have much longer to wait.
There's not a lot to go on here, but Cardi B is definitely capable of bagging some huge guests for her debut album. If last year's "Bartier Cardi" makes the cut, 21 Savage is confirmed to show up at the least, and it's very likely her fiancé Offset and the rest of Migos will turn up, too. But there's also the chance she'll use the album as an opportunity to showcase her talents, opting to not overstuff the project with guests. If the latest preview she's shared is any indication, there's a lot of talent to showcase.
Rumors of a collaboration with Beyoncé have already been shot down, but with a supporting slot on Bruno Mars' upcoming tour, there's still lots of potential for both unexpected and expected heavy-hitters to appear. Drake also booked her to perform at OVO fest in Toronto last year, so there's a likelihood that he could turn up. There's no telling who could turn up, making us all the more excited for the inevitable tease of the tracklist.