Former foes Tory Lanez and Drake had a bonding moment earlier this week when they decided to clown a Tory Lanez impersonator on Instagram. The I Told You rapper reposted a video—originally shared by comedian Shiggy—in which the lookalike is acting out Lanez's recognizable mannerisms.
"Litty again. We out here in MIA with Tory Lanez," Shiggy says in the clip, before revealing it's an imposter. "Man, that ain't no fuckin' Tory Lanez, man."
It's a pretty amusing video that might've fooled some viewers at first. The impersonator does act and look a lot like the Canadian rapper, so much so that he caught Lanez's attention.
"YOO this fame shit getting too crazy @theshiggyshow," he wrote in the caption of a now-deleted Instagram post. "These 2 niggas was acting like they was me and @writtenbyray the whole weekend it's 2018 … NIGGAS HAVE TO CHILL."
Drake also got a kick out of the situation: "I'm done…he even had the 'I get this all the time' swag on 100," he wrote in a comment.
"Lmaoo the nigg#a lowkey knew the hand movements .. like how sway?!?" Lanez replied.
Check out the comments below.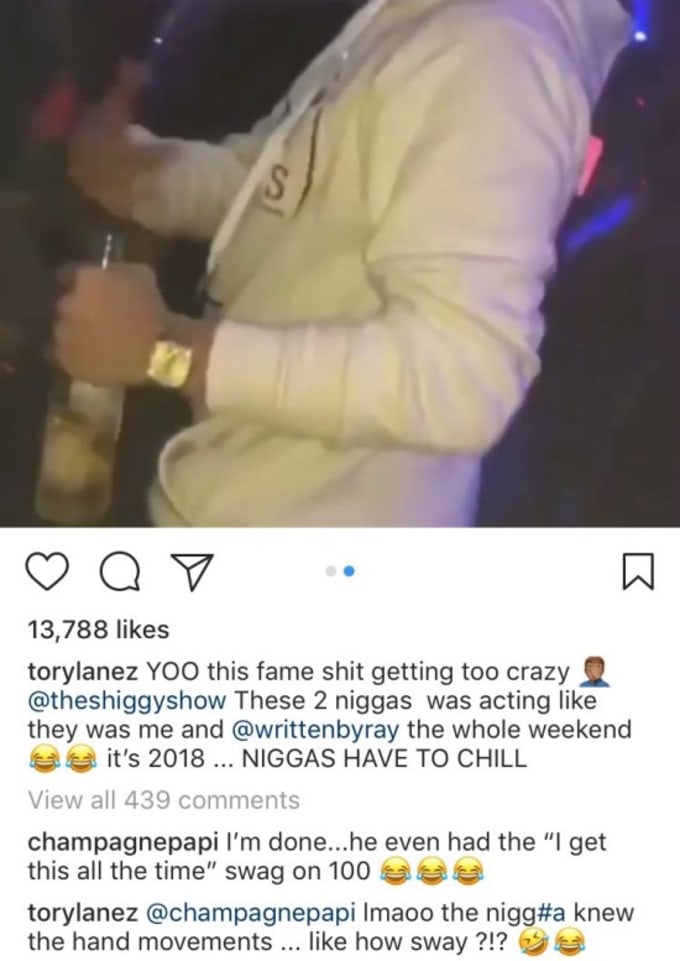 Drake and Lanez squashed their highly publicized beef in 2017, after years of exchanging shots. Lanez spoke about the feud in an interview with Hot 97, but didn't reveal any details on what started the dispute or how it was eventually resolved.
"It's about music at this point," he said. "That was between me and him, I think for it to happen the way it happened it was meant to happen that way. And for whatever the reasons around it were, it's between me and him."